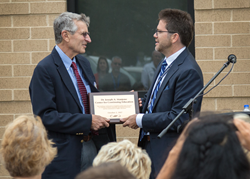 Orange Beach, Alabama (PRWEB) October 02, 2017
Today, Columbia Southern University (CSU), a pioneer in online education, renamed its Center for Continuing Education building the Joseph A. Manjone Center for Continuing Education in tribute to the longtime administrator's commitment and service to higher education.
A tireless leader, Manjone has contributed much to the growth of CSU since his career began with the university in 2000 as the director of education. Currently, Manjone serves as the assistant provost of special programs.
"The decision that dad made, the family made to hire Dr. Manjone was a very critical one. And it set the stage for where we are today," said CSU President Robert Mayes. "He really does care about the people here and the people he knows. He is friends with almost everyone here. We call him a friend, and not just a coworker."
During his career, Manjone has held several leadership positions, most notably serving as the president of Waldorf University, CSU's sister institution, from 2009-2011. He has worked diligently to cultivate CSU's Vietnam education partnership with the Center for International Training Cooperation in Hanoi and Ho Chi Minh City. The joint effort features degree programs taught in English at the master's level and bachelor's, primarily in business administration.
"This is an incredible honor. I do want to thank the Mayes family for me being here," said Manjone during the building dedication ceremony. "They've given me 17 great years, and they've given me the opportunity to continue my participation with high school sports. They've given me an opportunity to travel around the globe and to, of course, be president of Waldorf, my most memorable experience."
The center currently features staff offices, meeting rooms and a large training area that can be partitioned off to accommodate various training needs. In addition, the facility serves as the regional training center for the Alabama Fire College and Personnel Standards Commission. This group prepares Alabama's firefighters and first-responders by delivering training courses and administering the process of fire service certification in Alabama.
"I also want to thank the faculty and staff at CSU for all they have done in building CSU and making this possible," said Manjone. "From the 12 staff and five faculty, some who are here today…and now to the thousands of faculty and staff that have built CSU into one of the top online universities in the country, you are my family."
Manjone holds a bachelor's in math and master's in sports administration from Penn State. He also holds a doctorate in sports administration from the University of Georgia. He is the National Intercollegiate Soccer Officials Association Director of the Interscholastic Division, a current member of the National Federation Soccer Rules Committee and was inducted into the National Intercollegiate Soccer Officials Hall of Fame in 2013.
He has served as chair of the National Federation of State High School Association Soccer Rules Committee, director of Continuing Education and director of Sport Travel and Tourism at the United States Sports Academy. His past experience also include sports administrator positions with the U.S. Army, Penn State, Frostburg State University and the University of Alabama in Huntsville.
# # #
About Columbia Southern University
One of the nation's pioneer online universities, Columbia Southern University was established in 1993 to provide an alternative to the traditional university experience. CSU offers online associate, bachelor's, master's and doctoral degrees such as business administration, criminal justice, fire administration and occupational safety and health. Visit ColumbiaSouthern.edu or call (877) 347-6050 to learn more.