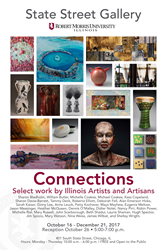 This is the 5th curated exhibition hosted by RMU which celebrates the talents of artists living and working in Illinois.
Chicago, IL (PRWEB) October 04, 2017
The State Street Gallery is pleased to announce its fall exhibition, "Connections," highlighting the work of over 30 artists and artisans living and working in Illinois, opening October 16. The juried collection is largely tactile and three-dimensional. A variety of ceramic techniques and applications will be represented including the unique Saggar firing, the soulful expressive figures of Robin Power of Lemont, the imaginative and blooming plants of Sharon Bladholm, Chicago, and the fun and funky tiles of Jason Messinger, also of Chicago.
Contemporary will connect with traditional in a vast array of media including blown and fused glass, photography, textiles, oil painting, paper maché. Work from well-known Illinois Artisans members (formerly with the Illinois State Museum) will include the graceful curves of forged steel by Roberta Elliott of Cobden, IL, and vivid landscape paintings by Didier Nolet of Evergreen Park. The exhibition will continue to evolve with a sculpture-in-progress by the ever entertaining and inventive Alan Emerson Hicks of Chicago.
This is the 5th curated exhibition hosted by the galleries of Robert Morris University that celebrates the vast talents of artists and artisans living and working in Illinois.
Other featured artists and artisans include: William Butler of Peoria, Michelle Coakes of Taylorville, Michael Coakes, Kass Copeland, Alan Emerson Hicks, Anne Leuck, Patty Kochaver, Heather McQueen, Dennis O'Malley, Nancy Pirri, Michelle Rial, Laurie Shaman, Hugh Spector, Jim Spizzo of Chicago, Sharon Davie-Barrett of Rantoul, Tammy Deck of Berwyn, Deborah Fell of Urbana, Sarah Kaiser of Evanston, Ginny Lee of Springfield, Mays Mayhew of Prospect Heights, Eugenia Meltzer and Mary Watson of Prospect Heights, Mary Russell of Geneva, John Scarborough of Granite City, Beth Shadur and Nina Weiss of Highland Park, James Wilbat of Mundelein, and Shelley Wright of Oak Park.
In addition to the works on display in the exhibition, smaller hand-crafted items by the featured artists will be available for immediate purchase in the ArtMart section of the State Street Gallery.
Connections Select Work by Illinois Artists and Artisans will be open October 16 and will run through December 21, 2017. The artists' reception will be held on October 26 from 5:00 until 7:00 p.m. The gallery is located on Robert Morris University's Chicago campus, 401 South State Street, Chicago, IL 60605. It is open Monday – Thursday, 10am – 6pm. It is free and open to the public.
Robert Morris University Illinois is a not-for-profit, baccalaureate and graduate degree granting institution, accredited by the Higher Learning Commission of the North Central Association of Colleges and Schools.* The University serves over 4000 students interested in getting an education in business, graphic arts, nursing and health care, culinary and computer studies at its main campus in Chicago, as well as at locations in Arlington Heights, DuPage, Elgin, Orland Park, Springfield, Peoria, Schaumburg and Lake County. In all communications, please refer to the university by its full name, Robert Morris University Illinois. For more information, call 312.935.5460 or visit the web site at http://www.robertmorris.edu
*Higher Learning Commission of the North Central Association of Colleges and Schools, 30 N. LaSalle Street, Chicago, IL 60602, 312-263-0456.