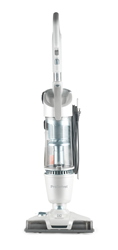 Charlotte, N.C. (PRWEB) October 03, 2017
Long recognized as the ingenious design innovator that enables cleaning possibilities beyond just the home, Electrolux has done it again with the new ProSwivel upright vacuum. The Electrolux ProSwivel provides a swift clean on all floors with a best-in-class 180-degree swivel, and quick release wand that masters above-the-floor cleaning.
"The ProSwivel moves easily through the home providing a clean environment that feels effortless," said Jillian Hillard, director of product marketing for Electrolux Small Appliances, North America. "ProSwivel features new and better capabilities to improve the vacuuming experience for our customers, giving them a high-performance clean and the results they want."
At the heart of the Electrolux ProSwivel is 180° EasySteer™ swivel maneuverability, a design originally mastered by the Ergorapido® line of stick vacuums. Now engineered specifically for a full upright vacuum, it features a low-profile nozzle and swivel steering that work together to clean under obstacles and around every corner.
The ProSwivel pushes floor care to the next level, accelerating the cleaning experience forward, also featuring:

Sleek and Intuitive Design – ProSwivel is a chic attention-getter with stylish orange accented touchpoints on a pearl white and gray frame, a slim profile and a brushroll view window for usability.
Powerful Suction – The Electrolux multi-cyclonic system thoroughly cleans by depositing dirt directly into the dust cup, resulting in better airflow and overall suction.
Above-the-Floor Reach – The Pro release cleaning wand is a professional-grade aluminum wand with a stretch hose and an easy release button to effortlessly clean up high or in corners and crevices, without tipping over during cleaning.
All-Floor Performance – The motorized power brush provides superior performance on bare floors and assists when adjusting from bare floor to rug, carpet and plush carpet settings.
Detail Cleaning – An innovative 3-in-1 cleaning accessory can be made into a dusting brush, crevice tool or upholstery nozzle, while DustSpotter LED lights increase visibility so no speck of dust goes unnoticed.
"The ProSwivel fits perfectly with our line of high-performance, high-style vacuum cleaners, which also includes deep cleaning canisters, convenient 2-in-1 sticks and pet-centric upright vacuums for limitless cleaning capabilities at home," said Hillard.
The Electrolux ProSwivel upright vacuum is available for $269.99. For more information, visit http://www.electrolux.com.
About Electrolux Home Care & SDA North America
Electrolux Home Care & SDA North America (ESA-NA) leverages consumer driven insight to manufacture and market innovative small appliances for the home. The company markets floor care products and small kitchen appliances to consumers under its well-known Electrolux and Frigidaire brands and central vacuum systems under the BEAM brand name. The company also sells high-quality commercial products under the Sanitaire brand. ESA-NA is based in Charlotte, N.C., and is a part of The Electrolux Group. Visit http://www.electroluxappliances.com, http://www.frigidaire.com, http://www.buybeam.com or http://www.sanitairecommercial.com for more information