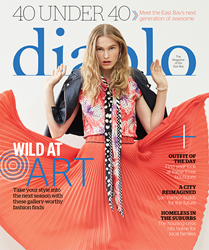 "It was a great night celebrating the impressive accomplishments of remarkable professionals and leaders who are helping to reshape the East Bay." -Alexander Mehran Jr., Sunset Development Company
Walnut Creek, CA (PRWEB) October 04, 2017
The 2017 40 Under 40 event, hosted by Diablo magazine in partnership with Bishop Ranch, a Sunset Development Project, was recently held at the Roundhouse Market at Bishop Ranch. This event recognizes the 40 Under 40 honorees who are featured in the September issue of Diablo magazine.
"We were honored to be able to host the '40 Under 40' event at Bishop Ranch this year," said Alexander Mehran, Jr., president and chief operating officer of Sunset Development Company. "It was a great night celebrating the impressive accomplishments of remarkable professionals and leaders who are helping to reshape the East Bay."
The Roundhouse Market at Bishop Ranch provided a selection of appetizers for the event. Wine and beer were provided by the event's pouring sponsors, which included Bishop's Vineyard, Calicraft Brewing Co., and Wente Vineyards.
Comcast was the Gold Sponsor, and Silver Sponsors included Heller Jewelers and Kaiser Permanente. Comcast, Heller Jewelers, Visit Oakland, Bishop's Vineyard, and Union & Fifth provided raffle packages for the event, and raffle proceeds benefit Youth Homes, an organization whose mission is to provide "a safe place for foster youth to heal and grow."
Diablo magazine's 40 Under 40 celebration is an extension of the September issue of Diablo, which honors 40 of the East Bay's innovators, entrepreneurs, scientists, artists and the like. This is the fourth year that Diablo has featured the East Bay's young movers and shakers in the September issue.
ABOUT DIABLO MAGAZINE
Covering topics ranging from travel, culture, and personalities to entertainment, recreation, and food, Diablo magazine is written specifically for the San Francisco East Bay market—from Central Contra Costa, into the Oakland and Berkeley hills, and throughout the Tri-Valley. With locally driven editorial content, beautiful photography, and resource listings, Diablo is a unique celebration of the San Francisco East Bay. Published since 1979, Diablo has been recognized for its editorial and design with numerous awards, including previous Maggie Awards for Best Overall Publication and Best Regional and State Magazine in the consumer category.