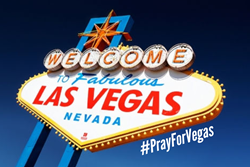 It's so important to continue to campaign for love instead of hate.
NASHVILLE, TN (PRWEB) October 02, 2017
As the nation struggles to make sense of last night's horrific massacre at the Route 91 Music Festival in Las Vegas, Christian music artists are sharing their thoughts, offering hope and praying for peace...
Sadly we live in a flawed world and we're all vulnerable. It's so important to continue to campaign for love instead of hate. Love prevails, always. Praying and thinking of all the souls lost in Las Vegas and continued prayers for all the injured as well. God Bless you all and God Bless Las Vegas!
— MICHAEL SWEET (Recording Artist / Lead Vocals & Guitar for STRYPER)
The war between love and hate, good and evil rages on. Some days (like today) it feels as though the darkness is gaining the lead. We must not allow ourselves to believe that lie. The heroism of law-enforcement and first responders along with the total strangers who saved lives is a testament to the goodness which will ultimately overcome the darkness. Our Hope abides in the reality of Jesus.
— GARY CHAPMAN
I don't have the words to describe how heavy my heart is after today's events in Las Vegas. It seems the evil in this world is exacerbating so quickly. We all have to keep spreading the word of Jesus Christ he is truly the answer.
— JOHN ELEFANTE (Recording Artist / Former member of KANSAS)
My heart goes out to all those affected by that heinous attack in Las Vegas. My family and I will be praying that somehow, someway God will be able to give peace, comfort, and strength.
— JOANNE CASH
My heart is broken over this senseless tragedy in Las Vegas. My prayers are with all the victims and their families.
— SUSAN ASHTON
I am deeply saddened to hear of another senseless tragedy. My heart is broken for the victims and their families. This is a subject that is very dear to my heart. My father was also killed by the hand of a gun. May we hug our families a little tighter today. May the people in our lives never doubt how we feel about them. Psalms 34:18 states that God is always near the broken-hearted. I pray that God will surround the families with his perfect love, comfort and peace. This is a senseless tragedy that could have been prevented if the heart had been different. For this is not a gun issue, it is a heart issue.
— NATASHA OWENS
My heart breaks for the victims of last night's Las Vegas attack. It is a tragedy on so many levels, including the fact that this devastation happened during a time of music and fellowship. My thoughts and prayers go out to all.
— JENNIFER MCGILL (Recording Artist / Former co-star of "The All-New Mickey Mouse Club")
We find ourselves at a loss of words in the heinous attack against the wonderful people in Las Vegas. Our prayer is that every family member affected by this tragedy will find hope and peace that only God can give. We pray for the first responders, the medical professionals, and the city as they move forward inch by inch. Let hope rise and the peace that passes all understanding fill our souls.
— SEAN LOCHE (Higher Vision)
We have all watched in horror as the events in Las Vegas continue to unfold. We (The Imperials) have a very special heart for Vegas and our time there with Elvis Presely. Join us as we continue to pray for all those who have been affected by this horrific tragidy.
— THE IMPERIALS (Rick, Paul, Dave and Armond)
Tragedies like Las Vegas have a redemptive tendency to unite us. Our divided nation is in great need of healing, so we pray that goodness and unity would come from this attacker's evil intentions and that peace would abound in the hearts of all affected.
— OUT OF THE DUST
My heart goes out to all the victims of this horrible crime and their families. With so much evil in this world, I pray this tragedy will draw people closer to the Lord and cause our nation to seek Him once again. "For blessed is the nation whose God is the Lord" (Psalm 33:12).
— STEPHANIE JOY
The Lord promises to be close to the brokenhearted. And so many hearts are broken. Christ knows this suffering personally. Prayers and heartfelt condolences for all touched by this unthinkable crime in Las Vegas. And God bless the first responders and civilians for their sacrifice, bravery and care. May our country be united through this tragedy.
— GRETCHEN KESKEYS
As a musician, my heart goes out to those who were performing and to all the fans who were attending. Live music is meant to be a community experience and the thought of that being threatened in today's world breaks my heart. My thoughts and prayers are with the victims and their families, as well as with the family of the shooter.
— FRANCES DROST
My thoughts and prayers are with those who are in the midst of unimaginable grief following the harrowing experience they have endured in Las Vegas. When there are no words to convey the depths of our thoughts, we can pray to the One who knows the cries of our hearts. He is the hope we can cling to in this world where much seems to be broken.
— LESLIE MCKEE
My heart is broken for every person involved in this senseless act. The world is so dark, yet we cannot lose hope. Hope is what tethers us to eternity and we mustn't, at any cost, lose eternity.
— ABIGAIL SLOANE
Our hearts are heavy for those hurting in Las Vegas. Personally, it has caused us to ask ourselves how well we are loving those around us... We are praying for those who are affected by loss, deep pain and inconsolable grief. We are remembering the difficult words of an ancient saying: "Love your enemies. Pray for those that hurt you. Grieve with those who are grieving. Comfort broken hearts around you." Tell people around you that you love them today. Don't wait... act on the love inside of you.
— MOUNTAINCITY
With the death toll at 59 and climbing and more than 500 injured, last night's attack is the deadliest mass shooting to ever take place in the United States. Over two million dollars have been raised for the Las Vegas Victims' Fund in a matter of hours. To donate, visit https://www.gofundme.com/dr2ks2-las-vegas-victims-fund.