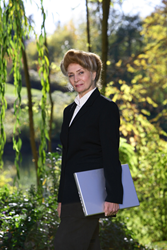 Grants Pass, OR (PRWEB) October 03, 2017
International water advocate and researcher Sharon Kleyne, host of the nationally syndicated The Sharon Kleyne Hour Power of Water, Global Climate Change and Your Health on VoiceAmerica sponsored by Nature's Tears® EyeMist®, educated her radio audience about the importance of water and managing modern stress in the campaign to live a healthy life. In doing so, Kleyne referred to the work of an esteemed colleague and former guest on the show, Dr. Mary Wingo, Ph.D.
Kleyne reminded listeners that Wingo (http://www.marywingo.com), a physiologist, human stress research expert, scientist and businesswoman living in Ecuador, has been studying the impact of stress on living organisms since her teens. Her groundbreaking work, Kleyne explained, led to her influential book, The Impact of the Human Stress Response and her ongoing efforts as a consultant and life coach.
Linking body water evaporation to stress, Kleyne shared Dr. Wingo's five major causes of toxic modern stress—the stress that if allowed to run unchecked will kill you. Wingo's five modern stress markers include complexity (having too much on one's plate and being prone to overstimulation that releases excessive amounts of cortisone and adrenalin), loss of equality in society (causes early mortality, especially in men), loss of social capital (less communicating, fewer shared meals and events, withdrawing into Self), breakdown of human physiology (inflammation of organs and skin) and chemical contaminants.
Kleyne's extensive research revealed to her and others that these conditions can and often are triggered by the compromised nature of earth's and the body's water vapor, which are under constant attack by evaporation, pollution, allergies, and artificial environments. Kleyne used the example of the all-important tear film of the human eye. Not everyone is aware of the fact that the eye's tear film is naturally 99% water. As this tear film loses moisture as a result of excessive evaporation, dry eye disease is likely to occur. In addition to being painful, dry eye is also highly stressful. For relief, Kleyne suggested Nature's Tears® EyeMist®, the only personal hand-held humidifying device emitting a pure, pH balanced, patented micron-size water mist for dry eyes. Nature's Tears® Eye Mist® is endorsed by more than 22,000 ophthalmologists and optometrists nationwide and was successfully test-marketed in more than 70,000 outlets.
Kleyne gratefully acknowledged Dr. Wingo's endorsement of Nature's Tears® Eye Mist® and quoted Wingo's definition of stress. "Stress," Wingo said, is the rate of adjustment it takes for an organism (including its organs and cells) to adapt to a particular environment."
Kleyne said that everyone needs to manage stress better. She reminded listeners that everyone must be more proactive about their health. Stress can be alleviated if eyes and skin are replenished with moisture. Kleyne also urged people to drink 8 to 12 glasses of water a day to keep their organs supplemented with pure water. Finally, Kleyne suggested breathing properly—in through the nose, out through the mouth—and to get lots of sleep.