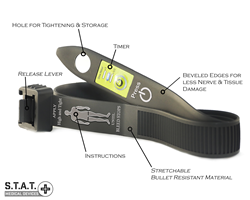 Simple, quick and effective products are what is needed during the time of a mass crisis. S.T.A.T. Tourniquet gets the job done without hesitation.
Freehold, New Jersey (PRWEB) October 03, 2017
S.T.A.T. Tourniquet's intuitive design, allows civilians to use it without prior bleed control training in the event of an emergency.
S.T.A.T. Tourniquet comes with a self-counting timer, and can be used on adults, pediatrics, and K9's limbs, as small as 20mm with an application time of 5 seconds, allowing first responders to treat upwards of 10-12 casualties in 1 minute during the event of an Active Shooter or MCI situation.
"The tourniquets unique latex free proprietary formula, has shown to function after being randomly struck by bullets and shrapnel. Once the bullet penetrated the tourniquet it automatically begins to selfheal, which is useful for soldiers who wear tourniquets on the front of their vest, and are struck by an IED," says Dimino.
S.T.A.T. has a pull tab which allows First Responders to store 50 or more preloaded tourniquets on one carabiner, for rapid response in the event of a Mass Casualty Incident, Active Shooter, or natural disasters, as the US and many other countries have been experiencing recently.
What makes S.T.A.T. Tourniquet truly unique, is its ability to become a multi-purpose tactical tool; by combining two or more tourniquets together, you can now use a S.T.A.T. Tourniquet for hip displacements, torso bandage compression, improvised splints, or binding limbs together for a quick casualty evacuation.
S.T.A.T. Tourniquet comes packaged in a round compact design, allowing the user to carry it in their pocket for everyday use without being bulky and noticeable.
For more information on S.T.A.T. Tourniquet please contact: info(at)smarttourniquet(dot)com