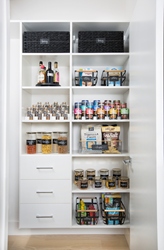 ...we​ ​knew, without​ ​a​ ​doubt,​ ​that​ ​they​ ​were​ ​the​ ​perfect​ ​fit​ ​for​ ​our​ ​vision
(PRWEB) October 04, 2017
Southaven,​ ​Mississippi​ Whitmor,​ ​Inc.,​ ​a​ ​leading​ ​provider​ ​of​ ​home​ ​storage,​ ​organization​ ​and​ ​laundry accessory​ ​products​ ​into​ ​the​ ​global​ ​retail​ ​market,​ ​today​ ​announced​ ​its​ ​strategic​ ​acquisition​ ​of​ ​Neat Method,​ ​which​ ​provides​ ​luxury​ ​home​ ​organization​ ​services​ ​to​ ​households​ ​around​ ​the​ ​country​ ​through​ ​its 25+​ ​current​ ​locations​ ​in​ ​operation.​ ​This​ ​acquisition​ ​marks​ ​the​ ​first​ ​in​ ​Whitmor's​ ​history​ ​and​ ​is​ ​significant as​ ​it​ ​is​ ​believed​ ​to​ ​be​ ​the​ ​first​ ​business​ ​combination​ ​within​ ​the​ ​storage​ ​and​ ​organization​ ​sector​ ​of​ ​the housewares​ ​industry​ ​that​ ​brings​ ​together​ ​a​ ​product-focused​ ​retail​ ​supplier​ ​and​ ​a​ ​service​ ​provider,​ ​both sharing​ ​in​ ​a​ ​common​ ​objective​ ​to​ ​help​ ​keep​ ​people​ ​and​ ​households​ ​organized.
"In​ ​recent​ ​years​ ​we​ ​identified​ ​a​ ​real​ ​opportunity​ ​for​ ​our​ ​company​ ​to​ ​become​ ​strategically​ ​aligned​ ​with​ ​a home​ ​organization​ ​service​ ​provider.​ ​Quickly​ ​after​ ​commencing​ ​conversations​ ​with​ ​Neat​ ​Method​ ​we​ ​knew, without​ ​a​ ​doubt,​ ​that​ ​they​ ​were​ ​the​ ​perfect​ ​fit​ ​for​ ​our​ ​vision,"​ ​stated​ ​Scott​ ​Felsenthal,​ ​Whitmor's​ ​Executive Vice​ ​President.​ ​"Neat​ ​Method​ ​has​ ​built​ ​a​ ​terrific​ ​business​ ​and​ ​brand​ ​operated​ ​by​ ​incredibly​ ​talented​ ​ladies that​ ​has​ ​provided​ ​many​ ​individuals​ ​who​ ​love​ ​to​ ​organize​ ​with​ ​the​ ​opportunity​ ​to​ ​start​ ​their​ ​own​ ​business and​ ​earn​ ​significant​ ​income​ ​doing​ ​what​ ​they​ ​love​ ​to​ ​do.​ ​We​ ​have​ ​aggressive​ ​plans​ ​to​ ​help​ ​fuel​ ​the​ ​growth of,​ ​and​ ​to​ ​strategically​ ​support,​ ​Neat​ ​Method​ ​and​ ​we​ ​couldn't​ ​be​ ​more​ ​excited​ ​about​ ​the​ ​marriage​ ​of​ ​these two​ ​great​ ​companies."
"After​ ​many​ ​years​ ​of​ ​building​ ​our​ ​business​ ​and​ ​providing​ ​the​ ​best​ ​home​ ​organizing​ ​services​ ​in​ ​the industry​ ​to​ ​clients​ ​across​ ​the​ ​country,​ ​we​ ​have​ ​learned​ ​just​ ​how​ ​important​ ​products​ ​are​ ​to​ ​the​ ​successful outcome​ ​of​ ​a​ ​project​ ​and​ ​a​ ​home,"​ ​stated​ ​Neat​ ​Method​ ​Co-Founders​ ​Ashley​ ​Murphy​ ​and​ ​Molly​ ​Graves. "We​ ​truly​ ​believe​ ​that​ ​without​ ​the​ ​perfect​ ​products,​ ​our​ ​clients​ ​cannot​ ​maintain​ ​an​ ​organized​ ​space. Joining​ ​forces​ ​with​ ​a​ ​leader​ ​in​ ​the​ ​storage​ ​and​ ​organization​ ​product​ ​world​ ​was​ ​a​ ​natural​ ​fit.​ ​We​ ​look forward​ ​to​ ​continuing​ ​to​ ​grow​ ​with​ ​Whitmor​ ​and​ ​officially​ ​marrying​ ​their​ ​products​ ​and​ ​capabilities​ ​with​ ​our service​ ​offerings."
For​ ​media​ ​and​ ​press​ ​inquiries:
Scott​ ​Felsenthal,​ ​Executive​ ​Vice​ ​President,​ ​Whitmor,​ ​Inc.
scott.felsenthal(at)whitmor(dot)com
Molly​ ​Graves,​ ​Co-Founder,​ ​Neat​ ​Method
molly(at)neatmethod(dot)com
About​ ​Whitmor,​ ​Inc.
Whitmor​ ​is​ ​dedicated​ ​to​ ​'bringing​ ​organization​ ​home'​ ​by​ ​creating​ ​products​ ​that​ ​simplify​ ​everyday​ ​life. Ensuring​ ​that​ ​those​ ​products​ ​are​ ​built​ ​with​ ​integrity,​ ​value,​ ​and​ ​innovation​ ​is​ ​Whitmor's​ ​commitment​ ​to consumers​ ​who​ ​put​ ​their​ ​trust​ ​in​ ​Whitmor.​ ​As​ ​a​ ​4th-generation​ ​family-owned​ ​and​ ​operated​ ​company founded​ ​in​ ​1946,​ ​Whitmor's​ ​success​ ​has​ ​been​ ​driven​ ​by​ ​its​ ​great​ ​team​ ​of​ ​employees,​ ​a​ ​perpetual​ ​passion for​ ​the​ ​products​ ​they​ ​produce,​ ​and​ ​the​ ​relationships​ ​they​ ​have​ ​built​ ​with​ ​their​ ​retail​ ​partners, manufacturing​ ​partners,​ ​and​ ​consumers​ ​around​ ​the​ ​world.
Learn​ ​more​ ​at​ ​​http://www.whitmor.com​.
About​ ​Neat​ ​Method
NEAT​ ​Method​ ​is​ ​a​ ​lifestyle​ ​service​ ​committed​ ​to​ ​providing​ ​a​ ​more​ ​luxurious​ ​and​ ​smartly​ ​appointed​ ​living space.​ ​The​ ​company​ ​recognizes​ ​that​ ​life​ ​gets​ ​hectic​ ​and​ ​that​ ​maintaining​ ​an​ ​organized​ ​home​ ​can​ ​become a​ ​challenge.​ ​NEAT​ ​Method​ ​will​ ​design​ ​and​ ​implement​ ​a​ ​customized​ ​solution​ ​that​ ​is​ ​not​ ​only​ ​effective​ ​but sustainable.​ ​Expect​ ​an​ ​honest​ ​approach,​ ​a​ ​sharp​ ​eye​ ​for​ ​detail,​ ​and​ ​a​ ​personal​ ​sense​ ​of​ ​refined​ ​style. NEAT​ ​Method​ ​believes​ ​that​ ​once​ ​your​ ​life​ ​is​ ​clutter​ ​free​ ​and​ ​well​ ​arranged,​ ​you​ ​will​ ​have​ ​a​ ​new appreciation​ ​for​ ​the​ ​importance​ ​of​ ​living​ ​NEAT.
Learn​ ​more​ ​at​ ​​http://www.neatmethod.com​.