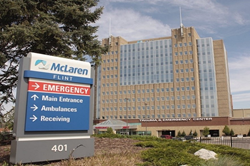 The transportation team can see at a glance which pumps are ready for retrieval and re-distribution. There's no need to disturb the patient to manually check the status of the device.
Traverse City, Mich. and Dayton, Ohio (PRWEB) October 04, 2017
McLaren Flint, in Flint, Mich., is the first hospital to launch an RTLS-smart pump interface between Versus and B. Braun, adding pump status to the asset information already available through the Versus Advantages™ Asset Management solution. Gaining automated visibility to pump status and eliminating time-consuming manual status checks elevates McLaren Flint's pump redistribution and utilization capacity.
"While Versus shows us the location of a pump and helps us manage inventory and distribution," explains Brent Wheeler, Vice President of Operations at McLaren Flint, "we also wanted to see the infusing status of a pump. Now a clinician can see where a pump is located, as well as whether it is currently in use."
Versus and B. Braun collaborated on an RTLS-IV pump interface, based on IHE® Patient Care Device (PCD) open standards. Now the dosing software feeds pump status to Versus, which displays "ON" (infusing) or "OFF" (infusion stopped) alongside pump location in the Versus List View. On the real-time floorplan, the pump's icon changes to red when the pump is infusing.
Wheeler explains, "For our centralized pump distribution, the transportation team can see at a glance which pumps are ready for retrieval and re-distribution. There's no need to disturb the patient to manually check the status of the device."
The Versus software also displays a "download ready" status that shows pharmacy staff when pumps are online and available to receive drug library updates via wireless data push. This reduces the time needed to manually collect the pumps for plug-in updates.
"The collaboration with B. Braun Medical is another great example of two leading healthcare solutions coming together to improve care delivery," says Kevin Jackson, Chief Technologist at Versus. "At Versus, our team is committed to interoperability with clinical solutions using industry standard communications. Our open architecture allows facilities to expand the true value of RTLS within the healthcare environment to better serve their patients and staff."
McLaren Flint uses the Advantages Asset Management solution to routinely redistribute pumps, allowing the busiest areas to always have an adequate supply. Thanks to Versus, McLaren has increased pump utilization, while decreasing pump inventory by 33 percent, saving $1 million in capital expense.
The hospital plans to further leverage its RTLS investment. Wheeler explains, "Although we started with pumps, we now have the infrastructure to take it to expand into patient flow, staff assistance and process improvement. We're looking at future standardization of the technology across our other hospitals."
McLaren Flint is serviced locally by SoundCom, a certified Versus System Integrator with offices across Michigan, Ohio and Pennsylvania, including Flint, Michigan.
Healthcare organizations interested in improving asset utilization with RTLS can visit the Versus booth at MD Expo, October 5-7, 2017 in Orlando, Fla. With special 2017 pricing and free cash drawings, there's no better time to jump-start your ROI.
PAR-level asset management and patient flow require highly accurate location data. In a 2016 report from the healthcare research firm KLAS, Versus received the highest rating among RTLS vendors that provide both hardware and software. Versus also received the highest rating for location accuracy, as well as for supporting integration goals and many other categories.(1) For more on the KLAS report, visit versustech.com/KLAS.
Midmark Corporation acquired Versus Technology, Inc. in May 2016, creating a unique offering of clinical workflow solutions that encompass clinical workflow services, RTLS technology, medical equipment, diagnostic devices and design assistance for improved efficiency within health systems.
(1) Source: "Real-time Location Systems (RTLS) 2016," July 2016. © 2016 KLAS Enterprises, LLC. All rights reserved. http://www.KLASresearch.com.
About McLaren Health
McLaren Health Care Corporation, headquartered in Flint, MI, is a fully integrated health network, committed to quality, evidence-based patient care and cost efficiency. The McLaren system includes 12 hospitals, ambulatory surgery centers, imaging centers, the state's only proton therapy center, an employed primary care physician network, commercial and Medicaid HMOs covering over 250,000 lives, home health care and hospice, durable medical equipment, retail pharmacy services, and a wholly-owned medical malpractice insurance company. McLaren operates the state's largest network of cancer centers and providers anchored by Karmanos Cancer Institute - one of only two NCI-designated cancer centers in the state. McLaren has 22,000 employees and more than 47,000 individual providers in its state-wide provider network. Learn more at http://www.mclaren.org.
About SoundCom
For nearly 40 years, SoundCom has been providing cutting-edge sound, video, and communications solutions for businesses and institutions of nearly every size. Headquartered in Northeast Ohio, SoundCom is ranked among the top 25 systems integration firms in the U.S. by Systems Contractor News. With offices in Cleveland, Detroit, Pittsburgh, Columbus, Grand Rapids, Cincinnati, Flint and Lansing, SoundCom has the knowledge, experience, and scalability to meet virtually any project scope and deadline with an attention to detail and focus on quality that is unrivaled in the industry. For more information, visit http://www.soundcom.net.
About Versus Technology, Inc.
Versus Technology, Inc., a Midmark company, provides healthcare facilities with operational and clinical workflow intelligence using real-time locating system (RTLS) technology. Since its inception in 1988, more than 850 hospitals, clinics and senior care facilities have used Versus solutions to support healthcare's ultimate goals: enhancing the patient experience while providing high-quality care at lower costs. With enterprise solutions for patient tracking, workflow automation, staff safety, hand hygiene and asset tracking, Versus improves patient flow, communication, and productivity to ultimately increase capacity. To learn more about Versus Technology, Inc., our technology and client successes, visit versustech.com.
About Midmark
Midmark Corporation, a privately held company founded in 1915, is a leading provider of medical, dental and veterinary equipment and technologies. Our nearly 1,700 teammates worldwide are passionate and courageous leaders focused on making a positive difference in the lives we touch by improving the experience between patients and their caregivers. Headquartered in Dayton, Ohio, Midmark maintains production and administrative offices in Versailles, Ohio. Midmark has six other locations in the United States as well as a number of subsidiaries in the United States, including Versus Technology, Inc. Midmark also maintains international subsidiaries in India, Italy and the United Kingdom. To learn more about Midmark, visit midmark.com.
About B. Braun Medical Inc.
B. Braun Medical Inc., a leader in infusion therapy and pain management, develops, manufactures, and markets innovative medical products and services to the healthcare industry. The company is committed to eliminating preventable treatment errors and enhancing patient, clinician and environmental safety. B. Braun Medical is headquartered in Bethlehem, Pa., and is part of the B. Braun Group of Companies in the U.S., which includes B. Braun Interventional Systems, Aesculap® and CAPS®.
Globally, the B. Braun Group of Companies employs more than 58,000 employees in 64 countries. Guided by its Sharing Expertise® philosophy, B. Braun continuously exchanges knowledge with customers, partners and clinicians to address the critical issues of improving care and lowering costs. To learn more about B. Braun Medical, visit http://www.BBraunUSA.com.
Safe Harbor Provision
This release may include forward-looking statements which "bespeak caution," and which are subject to risks and uncertainties that could cause actual results to differ materially from the forward-looking statements. The statements are made only as of the date of this release, and the Company undertakes no obligation to update them to reflect subsequent events or circumstances.