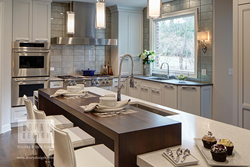 "The evolution of the kitchen has been dramatic, especially in terms of design styles, product options, and functionality. However, there has been one constant – the good fortune of working with great clients," Gail Drury, CMKBD.
Glen Ellyn, IL (PRWEB) October 05, 2017
What better time to celebrate than during NKBA [National Kitchen and Bath Association] Kitchen and Bath Month in October? Drury Design is a twenty-five year plus NKBA member and was recently named to Kitchen & Bath Design News' inaugural KBDN 50. A new recognition program, KBDN 50 honors the top 50 kitchen and bath professionals whose talents and efforts are moving the industry forward in 2017. 
Founded by Gail Drury, CMKBD in 1987, the company celebrates many milestones.
In thirty years, Gail's dream of merging entrepreneurship with motherhood blossomed from her home-based start-up into a leading luxury design-build remodeling studio. Drury Design now includes seven designers, a support team, multiple specialized installation crews, and a portfolio of over 2,500 projects.
Drury Design By the Numbers
37 Team members, including seven senior designers and seven talented installation crews
59 Communities including Chicago area and the greater Midwest
71 NKBA award-winning designs
555 Years of total team experience
2,500+ Client projects
74,100 Cabinets installed
Drury Design Anniversaries
40 years in the industry for Gail Drury, CMKBD
30 years for Drury Design as a company
25 years for Dolores, Drury Design's first employee
15 years for the Drury Design current Showroom
Gail Drury began her career as a designer and trainer for St. Charles Kitchens in 1977. Ten years later, she opened her home-based kitchen design studio in Glen Ellyn. In 1994, she opened her first kitchen design showroom in downtown Glen Ellyn. In 2002 Drury Design Kitchen & Bath Studio opened in the former Cottington's furniture store, a downtown Glen Ellyn landmark built in 1946. Today, Gail Drury's studio is an inviting creative center where clients begin to plan their new designs.
Drury Design Kitchen & Bath Kitchen & Bath Studio's success is built on Gail's belief in a Client-Focused Design™ process. Each client/designer relationship is supported by a team, giving the designer the freedom to focus on the client's individual custom home design-build remodeling projects.
Award-Winning Vendor Partnerships
Drury Design won the 2008-2009 Sub-Zero and Wolf Kitchen Design Contest's local award. The Glen Ellyn kitchen design project also won third place in the NKBA national design awards large kitchen category. In congratulating the studio on the win Dan Heyn, President Sub-Zero Wolf Showroom said, "It is always a pleasure working with Drury Design. Not only do they create outstanding kitchen designs, but their attention to detail is not compromised – the same philosophy of Sub-Zero and Wolf."
A Grabill Cabinetry Company dealer since 1996, Drury Design has been honored to receive twelve consecutive Dealer Sales Awards. In 2012, Drury Design unveiled a Grabill display to celebrate its 25th anniversary. "Drury Design's entire staff is very design-intuitive. And, they're unique in the way they relate to their customers. The Drury Design experience is what sets them apart and is one of their core values. Relationships mean everything to them," David Carnahan, Vice President, Grabill Cabinetry Company commented on the silver anniversary.
America's Ultimate Dream House Kitchen
One kitchen stands out as a winner in multiple ways. Featuring the Roman Liner and Blooming Leaf from the Bronzework Studio collection, a "Well-Dressed Traditional Kitchen" in Glen Ellyn is saved to over 300,000 Houzz idea books and is featured as the kitchen in the America's Ultimate Dream Home survey of Pinterest users. Ted Lowitz, Founder Bronzework Studio recalls, "In May 1997, Gail ordered a wonderful selection of our Talisman handmade ceramic tiles for a showroom display. Gail and her team at Drury Design are absolute masters of kitchen design. Their work is unsurpassed across the country. Gail has designed kitchens that have become truly iconic."
To announce a new partnership with Rutt HandCrafted Cabinetry and introduce the Ruskin studio display, in 2016 Drury Design hosted an event with Rutt HandCrafted Cabinetry and tastemaker Scott Stultz. "Drury Design is known for really listening to their clients. They interview them about their vision, ideas, and thoughts and then take all the information and put it into a cohesive design solution for the space," observes Jason Artus, AKBD Vice President of Sales & Marketing at Rutt HandCrafted Cabinetry.
When asked about the biggest changes in the past 40 years, Gail says, "The evolution of the kitchen has been dramatic, especially in terms of design styles, product options, and functionality. However, there has been one constant – the good fortune of working with great clients," Gail Drury, CMKBD.
Now in its fifteenth year at its current location, the studio showcases over 20 displays, including a NKBA showroom award winner. Custom cabinetry vendors include Rutt HandCrafted Cabinetry and Grabill. Appliances from industry leaders like Sub-Zero, Wolf, Viking, Dacor, Miele, and Thermador are featured throughout. Countertops and flooring selections complement the mood of each room, while galleries display cabinetry, surfaces, tile, and hardware. 
Jim Drury, Gail's husband, and business partner outlined the Drury Design client relationship approach, "Our designers educate each client by presenting multiple design possibilities, then assisting with custom cabinetry options and materials choices based on their goals. At first, the level of detail and planning that we put into designing a custom kitchen or bath surprises many clients. When we deliver the kitchen or bath of their dreams, it all falls into place for them."
About Drury Design Kitchen and Bath Studio
Located at 512 N. Main Street in Glen Ellyn, Illinois, the award-winning studio is one of the largest in the Midwest. Drury Design's Client-Focused Design™ approach positions clients as key partners in the design-build home remodeling process. The entire team is dedicated to delivering 100% complete client satisfaction.
Houzz.com, NIHBA [Northern Illinois Home Builders Association] ICON, National Kitchen and Bath Association [NKBA], NKBA Chicago Midwest Chapter, ASID [American Society of Interior Design] Illinois, Sub-Zero Wolf, and Trends Publishing have all honored Drury Design with design excellence awards.
Drury Design's media mentions include Houzz, HGTV, ElleDecor.com, CountryLiving.com, Cosmopolitan.com, PopSugar.com, Modern Luxury, Beautiful Kitchens and Baths, Trends Magazine, Better Homes and Gardens, Chicago Magazine, Distinctive Kitchens, West Suburban Living, Chicago Tribune, Daily Herald, Chicago Home Improvement, Great Kitchen and Bath Ideas, 50 Dream Kitchens, Kitchen and Bath Business, Kitchen and Bath Design News, Luxe Magazine, Professional Builder, Qualified Remodeler, Shelter, Smart HomeOwner, Women's Day, WGN Chicago, Naperville Magazine and West Suburban Living.
To interview Gail Drury, CMKBD, about home design trends or to request permission to use an image, contact Jim Drury at 630.469.4980. View Drury Design's kitchen and bath design portfolio at https://www.drurydesigns.com/portfolio/.