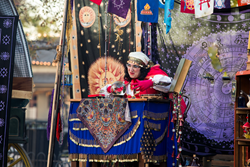 Dearborn, Mich. (PRWEB) October 04, 2017
Experience a new path lit by more than 1,000 hand-carved jack-o'-lanterns and meet costumed characters including the Mad Hatter and March Hare who will be having a tea party with the Queen of Hearts, the Bride of Frankenstein, Madam Zaza and more during Hallowe'en in Greenfield Village, Oct. 13-15, 19-22 and 26-29.
The crowd pleasing Top Hat Sideshow returns this year with their carnival vaudeville act that brings the spirit and thrills of the traveling sideshows and carnivals of the early 1900s to life. Guests will also be treated to more swashbuckling action, live singing and dancing from Hallowe'en favorites the Pirates of the Suwanee, and musical performances from the Transylvanian Trio and the Potion Sisters.
New this year, guests can follow the yellow brick road through The Henry Ford's unique interpretation of Kansas, Oz, and the haunted forest. The beloved characters from Frank Baum's classic The Wonderful Wizard of Oz come to life, including, Dorothy, Scarecrow, Tin Woodsman, Cowardly Lion, Glinda the Good Witch and the Wicked Witch.
Near the evening's end, guests will encounter a near narrow escape from the bony grip of the Grim Reaper and the Headless Horseman.
Tickets are $13.75 for members and $16 for non-members, children under two are free. Time slots are every half hour from 6:30 p.m. - 9 p.m. Fridays and Saturdays and 6:30 p.m. – 8 p.m. on Thursdays and Sundays. Purchase tickets online at http://www.thehenryford.org or call 313-982-6001. A coupon for $2 off admission is available online. Hallowe'en in Greenfield Village is supported by the Ford Motor Company Fund. For more information, visit https://www.thehenryford.org/current-events/calendar/halloween-in-greenfield-village.
About The Henry Ford
The Henry Ford in Dearborn, Michigan is an internationally-recognized history destination that explores the American experience of innovation, resourcefulness and ingenuity that helped shape America. A national historic landmark with an unparalleled Archive of American Innovation, The Henry Ford is a force for sparking curiosity and inspiring tomorrow's innovators. Nearly 1.8 million visitors annually experience its five attractions: Henry Ford Museum of American Innovation, Greenfield Village, Ford Rouge Factory Tour, Benson Ford Research Center and The Henry Ford Giant Screen Experience. A continually expanding array of content available online provides anytime, anywhere access. The Henry Ford is also home to Henry Ford Academy, a public charter high school which educates over 500 students a year on the institution's campus. In 2014, The Henry Ford premiered its first-ever national television series, The Henry Ford's Innovation Nation, showcasing present-day change-makers and The Henry Ford's artifacts and unique visitor experiences. Hosted by news correspondent and humorist, Mo Rocca, this Emmy®-winning weekly half-hour show airs Saturday mornings on CBS. For more information please visit our website thehenryford.org.
###