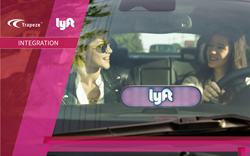 We're excited to work with Trapeze to help transit agencies expand the mobility options available to their paratransit passengers
Mississauga, Canada and San Francisco, California (PRWEB) October 09, 2017
Trapeze Group and Lyft, the fastest growing on-demand transportation service in the U.S., are excited to announce they are working together to enhance demand response service, introducing a unique solution to unify public-private transportation in the U.S.
Currently, transit agencies use Trapeze's transit enterprise solutions to manage and schedule paratransit service; however, by integrating with Lyft, transit agencies can also schedule paratransit rides on the Lyft platform through the Trapeze software.
This collaboration provides added value for transit agencies and passengers alike:

Transit agencies can use the Trapeze software to schedule rides on the Lyft platform well in advance of the trip date, letting them plan and inform riders earlier
Passengers can more easily identify their rides through the Trapeze software, which now provides information from Lyft's new "amp" LED device that emits a color in the vehicle
Working Together to Decrease Paratransit Costs
Paratransit costs have been steadily increasing. When the Americans with Disabilities (ADA) Act came into effect in 1990, paratransit trips cost about $15. Today, that's increased to as much as $45-70 per trip while paratransit funding has been decreasing. On average, paratransit service eats up about 8-10% of transit agencies' operating budgets while only providing about 2-3% of their overall ridership.
The Lyft-Trapeze collaboration can help transit agencies decrease their paratransit costs so they can provide reliable, fast service to all their passengers, in a cost-efficient manner.
"At Lyft, our mission is to improve people's lives with the world's best transportation," said Paul Davis, Transportation Partnerships Manager, Lyft. "We're excited to work with Trapeze to help transit agencies expand the mobility options available to their paratransit passengers, providing riders across the country with a new, reliable option to get to where they need to go, faster."
"By working with Lyft, we're helping transit agencies offer their paratransit passengers the most efficient and cost-effective transportation option. It's more than just a ride: it's providing accessibility, equality and a better customer experience," said Jeff Moore, Director, Industry Solutions and Alliances, Trapeze Group.
Attendees of the American Public Transportation Association (APTA) EXPO can join Trapeze and Lyft to hear additional details about the collaboration during a fireside chat at the Trapeze booth on Monday October 9th at 2 P.M. ET.
About Lyft
Lyft was founded in June 2012 by Logan Green and John Zimmer to improve people's lives with the world's best transportation. Lyft is the fastest growing rideshare company in the U.S and is available to 95 percent of the US population. Lyft is preferred by drivers and passengers for its safe and friendly experience, and its commitment to effecting positive change for the future of our cities.
About Lyft Business
Lyft Business offers travel, commute, event, and courtesy ride programs that provide customers with the tools they need to reduce cost, save time, and streamline their transportation programs. We partner with thousands of organizations to create unique solutions to move their people, from employees and customers to patients and students.
About Trapeze Group – North America
Trapeze Group works with public transit agencies and their communities to develop and deliver smarter, more effective public transit solutions. For more than 25 years we have been "here for the journey," evolving with our public transport customers around the world helping them to move people from point A to Z and everywhere in between. Learn more http://www.trapezegroup.com
Trapeze & Lyft Media Contacts
Vicky Abihsira
(905) 629-8727
Social.media(at)trapezegroup(dot)com
press(at)lyft(dot)com