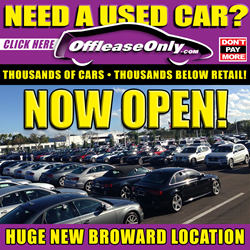 Off Lease Only is now the largest used car dealership in Broward County, and we will be a breath of fresh air!
NORTH LAUDERDALE, Fla. (PRWEB) November 03, 2017
Off Lease Only couldn't be more thrilled to announce the exciting news that their huge new dealership is officially open in North Lauderdale after two years in the making.
"It was certainly well worth the wait!" exclaimed one happy Mercedes-Benz purchaser on the first day open after saving thousands on her pre-owned purchase.
Nearly 1,000 used cars for sale stock the gigantic 15 acre property. All cars are open and ready for you to take for a test drive. Once you decide you like the vehicle of choice, feel free to take it to your mechanic prior to purchase for additional peace of mind.
The owner and his wife started the company with two cars, their life savings and a vision to provide a unique and transparent used car buying experience. One free of hidden fees and the stress of negotiating price.
"Off Lease Only is now the largest used car dealership in Broward County, and we will be a breath of fresh air!" said owner Mark Fischer who proudly offers a transparent used car buying experience.
OffLeaseOnly has grown into The Nation's Used Car Destination over the last two decades based on their prices being thousands below retail, and an excellent reputation of top notch customer service.
Used car shoppers in Broward will enjoy shopping thousands of used cars, priced thousands below retail, with no hidden fees. That is the Off Lease Only legacy.
"More Cars - Better Prices!" exclaimed Fischer. "This is why our customers are SO LOYAL! Why settle when you can have a selection like the one that we offer at Off Lease Only?"
OffLeaseOnly has nearly 200,000 happy customers worldwide and is recognized as DealerRater's Used Car Dealer of the Year for the entire United States, an Edmunds Five-Star Dealer and is an A+ Rated Company on the Better Business Bureau. 
All of these accolades are based 100% on customer service, satisfaction and OffLeaseOnly reviews!
Each OffLeaseOnly used car dealership is also ranked in the top five in volume Nationwide according to AutoRemarketing's annual report.
With that type of volume, car shoppers can feel confident buying a used car from one of the most reputable dealers in the country!
Once you get to OffLeaseOnly North Lauderdale, you can either walk the lot, or ride around in a signature purple golf cart while shopping 15 acres of quality used cars for sale.
Prefer shopping in air conditioning?
Stay inside the ice cold 10,000 square foot showroom, and have your vehicles of choice brought to you by a valet team member for you to then take a test drive.
The team at OffLeaseOnly North Lauderdale wants to cater to you.
Make sure to stop by and see the incredible used car dealership for yourself.