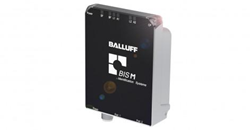 Florence, KY (PRWEB) October 04, 2017
Balluff is pleased to announce the introduction of the Profinet All-in-One read/write system. The rugged, space-saving housing is designed to eliminate messy cable runs back to the control cabinet. This system can operate with a direct connection to the PLC or multiple heads can be daisy chained with only one Ethernet connection running back to the PLC.
"The real value for automation integrators is the cost per read point can be greatly reduced," says Wolfgang Kratzenberg, Product Marketing Manager for Industrial Identification, "Especially in a situation where only one or two read points are needed."
Designed to withstand the rigors of a harsh manufacturing environment, the all-in-one system boasts an IP67 rated metal housing and highly visible LEDs. Standard M12 connectors and cables are used for power and Ethernet connections. In addition, it is capable of reading and writing large amounts of tag data very quickly, including tags which are mounted directly on metal.
The combined system concept provides a highly scalable solution for increasing visibility on the plant floor. This simplified architecture eliminates unnecessary equipment expenses leading to a quicker return on investment. Kratzenberg adds, "This system, as new islands of automation are added to the production, can be expanded one reader at a time without incurring the cost of an additional processor & heads, reducing the total cost per read point."
For more information, visit http://www.balluff.com.