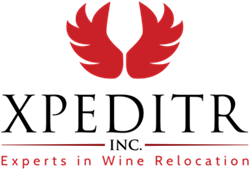 TORONTO (PRWEB) January 09, 2018
Following the destruction of precious, rare and historic wine collections valued at over $7 million during hurricane Sandy in 2012, fine wine transportation specialists, Xpeditr, launched XERT, the Xpeditr Emergency Response Team.
As specialists in temperature-controlled wine storage, shipping and transportation across USA and Canada, Xpeditr is on a mission to protect and preserve liquid treasures. They are renown for their premium fine wine relocation services, and now their Emergency Response Team!
Wine collectors, sommeliers and wineries across North America have learned lessons from previous disasters and the millions of dollars lost in precious wine collections, many of which were to be auctioned for the benefit of charities, hospitals and non-profits, once perfectly aged. Now, with the assistance of Xpeditr, collectors are not only prepared to relocate fine wine collections to prevent losses, but also have the security that comes with the Xpeditr Wine Cellar Assessment to establish flood and hurricane readiness.
Xpeditr clients are assigned an Account Manager who handles the assessment as well as all transportation, fine wine storage and shipment needs, providing a tailored and personal approach to the entire experience. Xpeditr employees are themselves fine wine collectors who not only understand the inherent importance of controlled conditions in aging, but also appreciate the bouquet, body and finish of a perfectly aged wine.
Xpeditr Account Managers also ensure that clients have proper and adequate insurance coverage, and provide Wine Transportation Insurance for all USA and Canada wine relocation services. Wine collections 'in transit' are rarely covered by traditional home insurance policies. Xpeditr offers peace of mind with wine insurance coverage including temperature damage, breakage, theft, and loss. Because of their expertise, efficient services, and utmost professionalism Xpeditr is the premiere choice when wine collectors choose to relocate their liquid treasures.
If disaster does strike, Xpeditr offers emergency assistance! A call to the Emergency Response Team, and wine collectors immediately have a squad of experts ready and able to help. As demonstrated during the unfortunate events of hurricane Irma in September, Xpeditr answered the calls of Florida collectors, and sent their team south to package, transport and relocate more than 20,000 bottles of fine wine, worth up to $5 million, to safety.
More About Xpeditr Wine Transportation:
Founded in 2005 by a team of logistics experts looking for a reliable solution to the transportation of fine wines, Xpeditr Inc. offers clients a streamlined, door-to-door solution to wine relocation across USA and Canada. Xpeditr understands that when liquid treasures are at risk, the potential for financial loss is felt by all parties involved, including local and national charities, who often rely on the donations and funds raised at fine wine auctions.
Staffed with sommeliers, logistics, transportation and warehouse professionals, the Xpeditr team provides a stress free, custom tailored solution for all wine relocation needs. Xpeditr is trusted for their expertise, efficiencies and utmost professionalism, and is the premiere choice for fine wine relocation across North America.