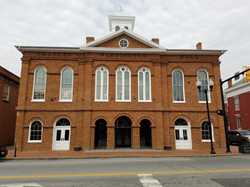 This is Bushel & Peck's big moment. We're here to celebrate bringing a grocery store to Charles Town that benefits not only the business community but also our people
Charles Town, West Virginia (PRWEB) October 04, 2017
The grand opening of Bushel & Peck, a natural foods grocery store in Charles Town, West Virginia is slated for Oct. 7 at 12 p.m.
As part of the newly renovated Charles Washington Hall, Bushel & Peck will serve the community Tuesday through Sunday from 10 a.m.-7 p.m. offering a selection of local products sourced within a 250-mile radius of Charles Town. The historic market house in Charles Town's main square, serves as a "historically hip hub" that will anchor downtown revitalization.
An all-day event, attendees can enjoy the Charles Town Farmers Market from 8 a.m. to noon, and then to explore the Charles Washington Hall and the new Bushel & Peck market when its doors open at 12 p.m. As part of the celebration, visitors can sample hors-d'oeuvres, and enjoy beer and wine while listening to live music by Dave Asti from 7 p.m. to 9 p.m.
Bushel & Peck's local farmers and suppliers will also take part in the festivities. As a significant milestone of community progress, members of the Charles Town City Council including Mayor Scott Rogers will also be on-site during the grand opening.
"This is Bushel & Peck's big moment. We're here to celebrate bringing a grocery store to Charles Town that benefits not only the business community but also our people," said Todd Coyle, board treasurer for Bushel & Peck.
To learn more about Bushel & Peck, visit http://www.facebook.com/bushelandpeckwv/.
About Bushel and Peck
Bushel and Peck is a natural foods grocery store located in Charles Washington Hall in the heart of Charles Town, West Virginia. Sponsored by the G.A.P. Coalition, Bushel and Peck is open from 10 a.m.- 7 p.m. Tuesday-Sunday. The grocery store provides area farmers, artisans, musicians and other non-profits with alternative marketing opportunities while providing its customers with fresh locally grown, or locally produced products. To learn more about Bushel and Peck, please visit http://www.facebook.com/bushelandpeckwv/
###