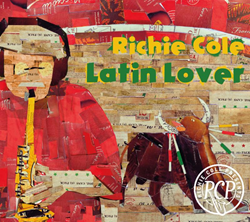 I've always had a passion for Latin music and Latin-flavored embellishments, so it was time. And these tunes have great melodies and I can swing my ass off on them.
Richmond, CA (PRWEB) October 03, 2017
Alto saxophonist Richie Cole has covered a lot of stylistic ground since he left the Berklee School of Music in 1969 to join the Buddy Rich Band at age 21. Long known as a torchbearer for bebop, Cole started referring to his style of playing as "Alto Madness" in the 1970s, and that has been his motto ever since.
In the course of a prolific career fast approaching the half-century mark, Cole has included Latin jazz tunes on many recordings, but surprisingly—given his affinity for that style—has never devoted an entire album to Latin jazz. Cole has now remedied that oversight with "Latin Lover," his new album for Richie Cole Presents, which will be released on October 20.
What's not surprising is the highly original stamp Cole places on arrangements and repertoire throughout. He's put together a wonderful and witty program of music that, in addition to four of his own compositions (including a reprise of "Island Breeze" from his classic 1978 outing "Alto Madness"), features versions of the traditional Mexican children's song "Cielito Lindo," a Mariachi band staple today; "Lonely Bull," a smash hit for Herb Alpert & the Tijuana Brass in 1962; Great American Songbook classics "Almost Like Being in Love" and "Harlem Nocturne"; and unexpected items such as "If I Only Had a Brain" from "The Wizard of Oz," arranged as a samba, and Neil Sedaka's 1974 pop hit, "Laughter in the Rain."
"I've always had a passion for Latin music and Latin-flavored embellishments, so it was time," Cole explains, though in keeping with his sense of humor he admits the album's title is ironic. "I doubt anyone would consider me a Valentino-type Lothario," he quips. As for some of the unconventional song choices on the new album, they share a common denominator: "What matters is that these tunes have great melodies and I can swing my ass off on them."
As a teenager, Cole played in Machito's big band for two summers at the Concord Hotel, a famed resort in New York's Catskill Mountains. "Playing with Machito was my first real exposure to this music," he recalls. "I was kind of lost at first. The bassist never played on the one and that took a lot of getting used to. But eventually I got it. It was a great learning experience."
Cole has played plenty of Latin jazz since cutting his teeth with Machito, including in an all-star festival band with Tito Puente alongside Dizzy Gillespie and Stan Getz. Coming of age on the East Coast, he was exposed to all manner of Latin sounds and has also toured Mexico numerous times (his son-in-law is from there), most recently with veteran trumpeter Luis Gasca.
Bassist and producer Mark Perna is one of the "angels" who have been instrumental in facilitating Cole's artistic output since the saxophonist moved to Pittsburgh in 2014. "We really put a lot of thought into how to follow Richie's ballads album," Perna says, referring to last year's well-received "Richie Cole Plays Ballads & Love Songs."
Perna reassembled the simpatico cast from the "Ballads" album—guitarist Eric Susoeff, who's worked with artists ranging from Dizzy Gillespie to Ivan Lins, and whose primary focus is his Latin Jazz quintet Salsamba, founded in 1984; versatile drummer Vince Taglieri, whose extensive experience includes work with big bands, theater productions, and jazz artists such as Bobby Shew and Sean Jones; and Perna himself, a veteran musician who's recorded six albums under his own leadership and has worked with Don Aliquo, Emily Remler, and Ron Affif, among many others—with the addition of pianist Kevin Moore, a Berklee alum whose musical travels have taken him to 60 countries and back to his native Pittsburgh.
"The songs on 'Latin Lover' aren't heavily arranged," says Perna, "but they're very much tailored to Richie. He's really one of a kind."
Richie Cole was born on Leap Day in 1948 in Trenton, NJ. His father, a big band enthusiast, ran the Harlem Club, a local jazz joint, and the Las Vegas-style showroom, Hubby's Inn. Cole was 10 when he started playing the saxophone. At 16, he attended a music camp directed by alto legend Phil Woods before heading for Boston's Berklee School of Music on a full scholarship from DownBeat magazine.
After coming up in the big bands of Buddy Rich, Lionel Hampton, and Doc Severinsen, Cole formed his own quintet. In the early '70s, he began a long association with the great vocalist Eddie Jefferson that lasted until Jefferson's tragic death in 1979. Over the ensuing decades, Cole has toured regularly, recorded prolifically in myriad settings, and resided in numerous cities on both coasts and in between. Now comfortably ensconced in Pittsburgh, he's free to pursue his muse and unleash his creativity, Alto Madness and beyond.