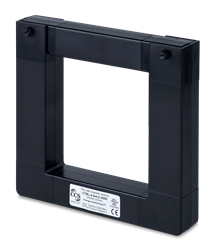 We are pleased to be able to offer a full line of UL Listed current transformers, now meeting the new 2017 NEC code requirements for field installations
LONGMONT, Colo. (PRWEB) November 06, 2017
The new CTBL series of split-core bus bar current transformers (CTs) are certified by Underwriters Laboratories (UL) to meet the new 2017 NEC code requirements that CTs installed in the field must be UL 2808 Listed. Until recently, almost all CTs used with electric submeters were certified as "recognized" not as "Listed" components.
The UL 2808 CT safety standard was released in 2012 under category code XOBA. The standard covers open-type, "split-core" current transformers. The National Fire Protection Association (NFPA) Technical Committee responsible for maintaining the National Electrical Safety Code (NESC), approved an amendment requiring UL Listed Cts. This amendment requires that field installed CTs used to measure current on the service entrance or branch circuit conductors within panel boards, switchboards, industrial control equipment, and monitoring / management equipment, must be UL 2808 (Class XOBA) compliant.
The CTBL series of bus bar split-core current transformers are now all certified by UL to meet the XOBA standard. This new CTBL series of bus bar current transformers are designed for large diameter and high current installations. The CTBL Series is offered in five standard sizes ranging from 800 amps to 3000 amps and are available in custom opening sizes up to 12" x 24" windows and for current loads up to 6000 amps. With a safe low voltage (0.333 Vac) output the CTBL CT does not require special shorting blocks as there is no presence of high voltage and no risk of arcing across and open CT, saving on installation time and expense while maintaining safety.
"It has been the intent of Continental Controls Systems to offer a complete line of UL Listed, XOBA 2808 certified current transformers by the end of the year - well before the UL Listed requirement becomes mandatory and enforceable," said Cynthia A. Boyd, Director of Sales and Marketing, Continental Control Sysems, LLC. "The certification of the CTBL series is a major step towards this UL compliance for all of our current transformers," she said.
Founded in 1995, Colorado-based Continental Control System specializes in electric power metering and monitoring equipment for the measurement of energy and power production and consumption. The company's solutions are designed to provide information on electrical systems in a variety of communication protocols including Modbus, BACnet, LonWorks, and kWh pulse. Applications for WattNode® meters include building automation, energy and load management, tenant sub-metering, performance verification/evaluation/diagnostics, and LEED certification.