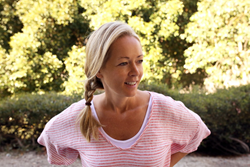 Our choice to eliminate the phrase was inspired by the radical idea that aging is actually quite wonderful
San Clemente, CA (PRWEB) October 05, 2017
Edens Garden pledges to no longer use the term "anti-aging" on any of its marketing materials, website, packaging and social media. A natural e-commerce brand that specializes in pure essential oils, Edens Garden is joining a movement to redefine how consumers think about their bodies and growing older.
"Our choice to eliminate the phrase was inspired by the radical idea that aging is actually quite wonderful," said Edens Garden CEO, Grace Martin. "Many people do not get the chance to see their later years. Not only is 'anti-aging' physically impossible, the term reinforces the idea that we must declare war against our own bodies and cure ourselves from aging."
A burgeoning body of research is finding that how consumers think about aging can have an impact on physical and mental health. A study conducted by Yale University found that people with positive views on aging, as opposed to those with negative opinions, were likely to live 7.5 years longer than their counterparts.
In its September issue, Allure Magazine so deftly pointed out, "anti-aging" correlates with "anti-anxiety meds, antivirus software, or antifungal spray," which are all starkly negative terms. A study by the University of Utah discovered that negative words can actually affect blood pressure levels. Positivity can lower rates of depression, improve one's resistance to colds and promote better coping skills according to The Mayo Clinic.
As a company owned and operated by women, Edens Garden is eliminating "anti-aging" to encourage customers to think about growing older as something to celebrate. "We are not telling you to toss your Age Defy synergy blend or stop coloring your hair because what you do to feel your best is entirely your business," said Martin.
Offering natural alternatives to conventional beauty products is a cornerstone of Edens Garden mission. The Age Defy synergy blend is a pure mixture of Frankincense, Sandalwood, Lavender, Myrrh, Helichrysum and Rose oils.
"We actually chose the term "Age Defy" because it empowers instead of cuts down," said Martin. "Defy the idea that beauty is determined by age, push back against the pressure to fit into some impossible standard and embrace your perfectly imperfect self. We hope more companies join us in eliminating 'anti-aging' from their messaging. In the meantime, Edens Garden has your back."
About Edens Garden
Edens Garden was formed in 2009 with the intent to provide high-quality, pure essential oils at affordable prices. Since that time, the online company has grown to include a large variety of single oils, synergy blends, carrier oils and other natural products. Unlike many other aromatherapy brands, Edens Garden is a non-MLM company that sells directly to consumers. Through organic growth, Edens Garden has satisfied more than 1 million loyal customers. Known for a range of expertly formulated blends, Edens Garden has worked with some of the biggest names in the natural industry, including Schmidt's Naturals. To find out more about Edens Garden visit edensgarden.com or follow Edens Garden on Facebook, Instagram and Twitter.