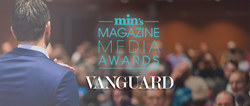 "At Vanguard our approach is not typical of trade magazines, law reviews or newspapers, but rather a combination of these approaches." - Blake Davis, editor for Vanguard
Portland, Maine (PRWEB) October 09, 2017
Vanguard, an international law magazine operated by TrueLine Publishing, received high honors at the 2017 Magazine Media Awards, presented by min. The awards honor brand excellence, with special emphasis on longevity and scope of operation.
min has hosted events and coverage of a variety of media for 70 years.
Its annual banquet, held in New York City, brings together hundreds of magazine media professionals, saluting the year's accomplishments across diverse magazine media. Publishers are recognized for content, design, digital, marketing and events.
Vanguard received honorable mention in the following three categories:

Digital Edition
Digital Excellence
Magazine Design
"Our goal is to provide clearly written stories about people and companies in the legal sector, with a measure of chutzpah," says Blake Davis, editor for TrueLine Publishing and creative lead for TrueLine's sister company, TrueLine Public Relations.
"At Vanguard our approach is not typical of trade magazines, law reviews or newspapers, but rather a combination of these approaches. This amalgamation makes Vanguard unique and provides a platform for law professionals to share their stories, truthfully, accurately and beautifully," Davis adds.
TrueLine Publishing, headquartered in Portland, Maine, produces a suite of domestic and international digital publications—Vanguard, Blueprint, Terra Firma, Vision, Vanguard Latin America, US Builders Review, among others—that help businesses grow their reputations online through custom feature articles, social media and by word of mouth.
TrueLine Public Relations is a digital marketing and public relations firm that specializes in everything from website design and professional writing to personal brand management.
For more information on Vanguard, TrueLine Publishing and TrueLine Public Relations, please contact Erica Berry at eberry(at)truelinepublishing(dot)com or 207-517-8386.