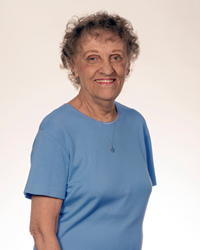 St. Louis, MO (PRWEB) October 05, 2017
At a time when most people stay in their current jobs for just a few years, Maritz Motivation Solutions is celebrating the 50-year service anniversary of Betty McCormick, an assistant in the company's print production department. McCormick has the distinction of being the most tenured full-time employee at Maritz.
On her 45th anniversary, current chairman and CEO Steve Maritz remarked that if Betty worked at Maritz another two years, she might surpass his father, Bill Maritz, as the most tenured employee. Bill worked for the company for 47 years.
"Do you think your dad would mind?" she asked Steve.
"I think he would be honored," Steve replied. "Betty has shown unending dedication to the company and we are lucky to have her."
McCormick joined Maritz in 1967 and still remembers her first day fondly. She has worked under three generations of Maritz family leadership and said that she wishes everyone had the opportunity to work for James, Bill and Steve. She has fond memories of the Maritz family and her family at Maritz over the years. Her two granddaughters still talk about coming to a Christmas party with their grandmother where the three of them dressed up as Alvin and the Chipmunks.
"I love my job and the people I work with and work for. They are my family away from home. When I first started I did not expect to be here for 50 years, but I am so thankful to be at Maritz for that long." McCormick said.
Named one of the best places to work in St. Louis, Maritz is honoring McCormick at a reception on October 5. She's proud to tell people that she works for Maritz and plans to continue working as long as possible.
"At Maritz, people are the heart of our story and we are very proud to be a place where people like Betty can add value for so long," added Drew Carter, president of Maritz Motivation Solutions.
About Maritz Motivation Solutions
Maritz Motivation Solutions helps companies drive growth by unlocking people potential through consumer loyalty, employee engagement and sales incentive programs. Maritz programs strengthen relationships and improve our clients' business results by making customers more loyal to a brand, employees more engaged in their workplace and salespeople motivated to sell. For more than a century, the Maritz brand has been synonymous with exceptional service, quality and innovation. Leveraging unsurpassed industry experience, decades of behavioral science research and a proprietary approach to data and decision sciences, Maritz can motivate human performance like no other company in the world. Today, more than 100 million people participate in client programs representing industries including hotels, airlines, pharmaceutical, automotive and financial services. For more information, visit http://www.maritzmotivation.com, subscribe to our blog, follow us on Twitter or call 1-877-4-Maritz (1-877-462-7489).