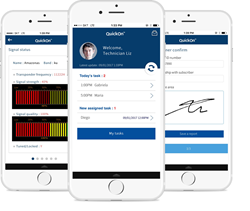 Unlike similar products, QuickON™ was designed from the ground-up with mobility at its core, not an after-thought.
(PRWEB) October 05, 2017
After garnering attention from worldwide organizations at the International Broadcasting Convention, Kaonsoft today announces the official launch of QuickOn™, its innovative field service management (FSM) solution custom designed for the telecommunications industry. Equipped with modern mobile-centric features, QuickOn™ combines both fundamental FSM elements to increase field worker efficiency with self-service functions to provide an omnichannel experience, shifting the business model from a costly "assistant-care" to a proactive "self-care" paradigm.
Built on the award winning Kaonsoft Enterprise Mobility Platform (KEMP™) and conceived by a tier-1 telco company, QuickOn™ is a cutting-edge technology that will seamlessly integrate into the existing systems and services for immediate results. It comprises of ten unique modules encompassing core functionalities such as scheduling and inventory management as well as enhanced components with innovative features like virtual assistants and ChatBots. In addition, QuickOn™ offers highly configurable pre-built mobile apps for customers, technicians as well as dispatchers with the following features and benefits:
Customer App: Increasing customer satisfaction

Decrease service calls and lower OPEX
Enable customer self-care with diagnostic tools
Streamline consumer touch points
Technician App: Improving first-time fix rates

Diagnostic and collaboration tools to enhance communication
Form creation and electronic signature capture
Knowledge management for consistent service delivery
Time and job tracking, GPS guidance and offline capabilities
Dispatcher Portal: Optimizing dashboard control

Core FSM elements (i.e. scheduling)
Technician and asset tracking
Analytics and business intelligence
Integratable with CRM, provisioning services, inventory systems and more
Option to run Uber-like operations
"QuickOn™ was built with mobility at the center. It is a highly configurable and reliable solution that will accelerate digital transformation across the telco industry," said Daniel J. Lee, Kaonsoft co-founder and North America CEO. "With increased competition and pressure to retain customers, customer service is becoming the new battlefield and QuickOn™ will become an essential part of the arsenal in the fight for a competitive advantage."
For more information on QuickOn and to find out why major telco companies such as Orange, Telefonica and TDC have expressed interest in the solution, please visit http://www.kaonsoft.com/telecommunications.
About Kaonsoft, Inc.
Established in 2011, Kaonsoft is a software company that delivers secure mobile strategies to organizations across industries for complete digital transformation. Backed by decades of digital expertise, Kaonsoft provides end-to-end mobility solutions that include an award-winning app development platform, a line of business-specific mobile applications as well as app delivery services. Kaonsoft aims to help clients improve customer experience, increase operational efficiency and optimize top line growth through a successful realization of enterprise mobility. For more information, visit http://www.kaonsoft.com or connect with Kaonsoft on Facebook, LinkedIn, Twitter, and YouTube.