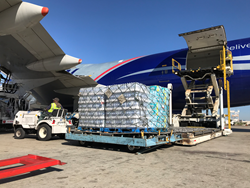 Everyone is going the extra mile, including weekends and 24/7 operational support to ensure we achieve 100% mission success in support of FEMA and private contractors. We know how important availability, reliability and safety are to our customers. The team is focused and dedicated.
McDonough, GA (PRWEB) October 04, 2017
Hurricane season 2017 has made humanitarian aid a top priority for government and charitable organizations for more than a month. On the heels of hurricanes Harvey in late August and Irma in mid-September, hurricane Maria has intensified Bennett's international logistics and inland trucking capabilities to service a wide range of relief challenges 24 hours-a-day, 7 days-a-week. Employees of Bennett are working around the clock to service Federal Emergency Management Agency (FEMA) requests for transport, private company shipments of machinery, and any other relief project requests that require the coordination of trucks, ships or planes to deliver vital services to those affected.
Employees Contribute Time, Money and Talents to Relief Efforts
While teams work to service customers, the heart of Bennett is beating in full support for victims of all of the hurricanes. Beginning with Hurricane Harvey, employees at the home office in McDonough, GA started the "Truckloads of Hope" campaign by collecting relief supplies for shipment by Bennett to the hardest hit areas in Texas. Staffed by employee volunteers, the effort gathered local community donations from private individuals and groups that didn't have the means to transport the supplies where they were needed.
Two entire tractor-trailer loads were sent to our Longview, TX Boss Crane & Rigging facility. From there, the American Red Cross, led by BOSS employees distributed the relief supplies via local churches in Beaumont, TX. The final shipment was sent to Florida for Irma relief, and Bennett continues to work to support Puerto Rico by raising funds through its charity committee.
Relief Logistics Projects Delivered
The historic enormity of the hurricanes has created a unique position for Bennett. Our diverse line of services for the private sector and established procedures with the U.S. government have enabled us to provide the following services so far, this year.

Delivery of over 40 first responder bunkhouse trailers for a private company supplying them to Hurricane Harvey
Moving over 280 flatbed loads of large power generators for a major network infrastructure provider. For three weeks, the equipment was moved from staging areas to deployments in storm-ravaged neighborhoods. As power was being restored, the equipment was again staged and moved over the course of three additional weeks to the areas affected by Hurricane Irma in South Florida. In the wake of the devastation in Puerto Rico, the customer has relied on Bennett to truck and secure ocean shipment of generators to the island of Puerto Rico where they will be deployed for an extended period.
Moving over 550 truckloads of water, meals, mattresses and blankets to and from warehouses in Maryland, Louisiana, Georgia, Texas, Alabama, North Carolina, Florida and others for deployment by FEMA. Bennett drivers hauled the freight and staged trailers full of humanitarian supplies across the country.
In support of meal packing drives collecting food from Atlanta-area distributors, Bennett moved over 1.2 million pre-packaged meals and MRE (Meals Ready to Eat) to FEMA warehouses for distribution to locations providing relief for all three hurricanes. Over 4.5 million additional pre-packaged non-perishable meals will be coordinated and transported from Orlando to Jacksonville over the next 5 weeks in support of on-going contracts to supply meals.
Bennett Government Services and Bennett International Transport have teamed to secure numerous B747-400 and Antonov 124 aircraft to transport relief supplies to San Juan, Puerto Rico to support FEMA missions. Each flight contains up to ten truckloads of relief supplies including meals, water and machinery to assist in the relief efforts in Puerto Rico.
Up All Night Since Labor Day
These projects follow on Bennett's patriotic commitment to provide the very best service to our government, our spiritual commitment to help families in need, and our integrity in maintaining service excellence for our customers not affected by any of the hurricanes. Many of our staff have been working around the clock since Labor Day in their desire to "do-it-all".
Charles Phillips, President of Bennett International Logistics, commended the entire Bennett team saying, "Everyone is going the extra mile, including weekends and 24/7 operational support to ensure we achieve 100% mission success in support of FEMA and private contractors. We know how important availability, reliability and safety are to our customers. The team is focused and dedicated."
Varied Capabilities as Recovery Needs Change
As the hurricane ravaged areas of Harvey, Irma and Maria move from the acute needs of disaster relief to rebuilding and recovery, Bennett is positioned to continue to provide support. Our international freight-forwarding and in-house customs brokerage handle the intricacies of air and ocean shipments of building materials and machinery. Bennett's Logistics team handles high-volume truckload shipments of goods between manufacturers, distribution centers and ports. Bennett's Flatbed, Heavy Haul, DriveAway and Truck Transport affiliated companies are positioned to support the transport of commodities, finished goods, manufactured housing and wheeled vehicles.
Jim Utley, Vice President of Government Services put it simply, "We are doing all we can to support the FEMA mission to aid the areas affected by the hurricanes. Bennett's portfolio of logistics services makes us capable of solving nearly every logistical challenge our customers face. I am proud of our Bennett family for rising to the complex nature of disaster relief operations during our Nation's time of need. Our employees, though personally affected by these events, sacrificed their personal time to volunteer in support of relief efforts."
About Bennett International Group
McDonough-Ga.-based Bennett International Group, LLC is a woman-owned, Women's Enterprise Business Council (WBENC)-certified, diversified transportation and logistics company. Through its eight affiliated operating companies, Bennett International Group delivers integrated transportation and supply chain management solutions worldwide. For hurricane relief services from any of our companies, please contact Jim Utley at 800.866.5500 ext. 7213.