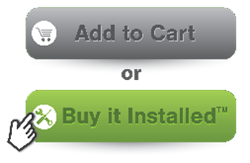 "...I can say that there are no other companies in the installed-sales industries that are doing what they [Buy It Installed, Inc.] are doing." -Neil Sahota, Worldwide IBM Watson Artificial Intelligence Leader
Cleveland, OH and Los Angeles, CA (PRWEB) October 04, 2017
CompSource, Inc., a mid-sized ecommerce retailer of computers, televisions, hardware, and other consumer electronics, has announced its integration of the Buy It Installed™ ecommerce button. This integration will enable http://www.compsource.com to join the ranks of Amazon and Best Buy, which offer their own branded installation services. Customers anywhere in the United States who are shopping on http://www.compsource.com will now get a choice: Add to Cart and then install themselves, or buy products installed by clicking Buy It Installed™.
"Given that our Add to Cart button primarily converts Do-It-Yourselfers, we wanted a sure-fire way to tap into the other half of the consumer segment, the Do-It-For-Me segment," says Dean Bellone, President of CompSource, Inc. "Integrating the Buy It Installed™ option is a no-brainer for us. It will significantly increase our conversion rates, decrease cart abandonment, lower product returns, and enhance our consumers' end-to-end buying experience."
Amazon's Increasing Market Pressure
The recent announcement of Amazon's in-house service division signaled a seismic shift toward serving the massive Do-It-For-Me consumer segment. It also served as a stark warning to all ecommerce retailers that sell any sort of serviceable products: "Having an option for consumers to more easily purchase products by providing a seamless service option is no longer a 'nice to have.' It is a 'must have' in order to stay competitive," says Grant Van Cleve, CEO of Buy It Installed, Inc. "Not having an integrated service solution will impact potential sales, and it risks punishment in the markets and investment community."
On Monday morning, July 10, 2017, this became crystal clear after Amazon announced their installation option. Recode reported that shares of Best Buy—the only electronic company with an established popular service offering, Geek Squad—took a $1 Billion-dollar hit. Amazon's arrival in the space thwarted Best Buy's competitive advantage in installed sales. For ecommerce retailers competing with Amazon, without any installed service offering of their own, this news was even more ominous. It signaled the beginning of an era where they would be forced to build or acquire their own integrated service solution to meet their customers' service needs anywhere in the nation.
"We are at the forefront of a major disruptive transition in the industry. Gone are the days when brick-and-mortar retailers dominate the delivery of installed-sales," says David Pourjahan, Senior Director of Sales for Buy It Installed, Inc. "Amazon has developed their own internal, integrated service solution to not only compete against installed-sales competitors, but to put massive pressure on other pure-play ecommerce retailers to acquire their own integrated service solution."
Acquiring An Integrated Service Solution
For companies desiring an integrated service solution, the options are limited. Building such an offering internally typically takes many years, and finding satisfactory external third-party partners is challenging: "We tried partnering with service marketplaces and handyman services in the past, and, while it kind of worked, it wasn't a smooth seamless experience for our consumers," says Bellone. "What is different about the Buy It Installed™ option is the incredible depth of installed-sales expertise and technology behind the scenes and their ease of integration. The Buy It Installed™ button succeeds at optimizing the consumer's experience."
Buy It Installed, Inc., the company that developed Buy It Installed™, was founded with the goal to level the playing field between the few large companies who have built their own integrated services networks and the other companies looking to compete. Its purpose is to provide turn-key national integrated service solutions. "Early in my career I created a service division for a company and then watched them devastate their competition within two years," said Todd Banhidy, founder and Chief Business Architect of Buy It Installed, Inc. "While a great success, I was unhappy with the experience. The Company was well funded and profited because it could afford to build its own internal solution. It wiped out its competitors of all sizes in no time, simply because of its ability to leverage its national installed-sales solution. Since then, I have set out to create an installed-sales solution which was as powerful as that internal offering, yet was simple to integrate and could be used by all companies, large and small. It took many years to develop, and the use of cutting-edge technology to achieve it. Now, in its completed form, Buy It Installed™ enables all companies to compete fair and square in the $2 trillion installed-sales market."
"It is amazing to see a relatively small company in this space with their level of sophisticated technology," says Neil Sahota, WorldWide IBM Watson Artificial Intelligence Leader and United Nations Artificial Intelligence for Social Good member. "The technology they use behind the scenes is typically what we see in highly funded think-tanks within other industries. Taking into consideration our visibility into the technologies used by companies around the world, I can say that there are no other companies in the installed-sales industries that are doing what they [Buy It Installed, Inc.] are doing."
Timing is Everything
CompSource, Inc. got a head start in integrating Buy It Installed™ and will complete their integration in the fourth quarter of 2017. Bellone says "Integrating the Buy It Installed™ option now gives us plenty of time to prepare for our big selling season ahead."
About CompSource, Inc.
CompSource Inc., founded in 1991, carries over 400,000 name brand computer hardware and software products sourced from 1,700 vendors and distributed through 16 warehouses across the United States. With aggressive pricing and speedy delivery, they set themselves apart from their competitors. With 26 years of experience, CompSource believes service is everything and they continually strive to make the purchase experience as pleasant as possible. Learn more at http://www.compsource.com.
About Buy It Installed, Inc.
On the surface, Buy It Installed™ is a simple ecommerce button that increases conversion rates and decreases cart abandonment, product returns, and warranty claims. Behind the scenes, Buy It Installed, Inc. is an Artificial Empathy company, which is an advanced form of Artificial Intelligence. Todd Banhidy, the company's founder, is one of the foremost experts in Installed-Sales solutions, having built solutions for over 25 years on 3 continents. He worked his way up from installing roller shades to eventually becoming a Fortune 500 subsidiary President under InterActive Corp. Buy It Installed™ links 200,000 contractors in 35 trades to its 45,000 step Installed-Sales EcoSystem™ in order to optimize the consumers' Inspiration-to-Installation™ buying experience. This venture-backed technology company is based in Irvine, CA. Learn more at http://www.buyitinstalled.com.