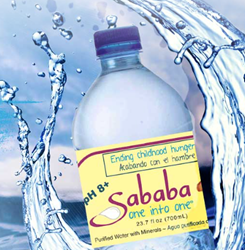 (PRWEB) October 05, 2017
Did you know that in America one out of six children go to bed hungry?
Or that there are over thirteen million food insecure children here, whose lack of nutrition impairs their ability to thrive emotionally, physically, and in school?
At Sababa Water, they are helping turn the tide of these troubling statistics by donating a meal to a food insecure child for every bottle of water they sell.
"We are a One into One company dedicated to helping the kids in our own backyards," explains co-founder Jonathan Stone. "If you buy a bottle of water in San Diego, the meal is going to go to a child in need in San Diego."
The brand started by selling cases to local natural food stores, cafes, and yoga studios, but has since grown to selling pallets and is now moving their bottles by the truckload.
So far in 2017, Sababa has provided over 150,000 meals to children in the USA.
Most recently, a store in Calexico immediately sold out of their 1000 bottle run because the community wanted to help feed their local children.
"People are looking for ways to participate," said Stone. "Our goal is to rally our communities to care for the future generation while taking care of their own health."
Sababa Water is a natural water that boasts a pH of 9+ that is maintained from the time of bottling until it is opened. High alkaline water supplies the same benefits as drinking regular water, but can also help with balancing acidity and pH levels and is filled with active minerals.
Sababa Water can be purchased in select states as well as at Food4Less and FoodsCo stores across California.
About
Sababa is a socially conscious One into One company launched by Jonathan Stone and Dawn Elyzabeth in 2014. For every bottle of their crisp high alkaline water that's sold, they donate a meal to a child in that same community. Their mission is to help build a stronger, happier generation by ending childhood hunger.