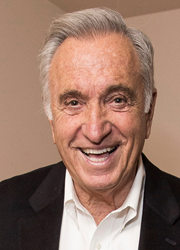 "Art Agnos has devoted his life to fostering diversity, inclusion, economic justice and ethical public service," said David Donahue, senior director of the McCarthy Center.
SAN FRANCISCO (PRWEB) October 05, 2017
The Leo T. McCarthy Center for Public Service and the Common Good at the University of San Francisco (USF) will celebrate its 15th anniversary on Thursday, Nov. 9 at the Julia Morgan Ballroom in San Francisco.
The McCarthy Center's anniversary will be commemorated with the establishment of the Leo T. McCarthy Award for Public Service, which will be awarded annually to those who have inspired others to lead, devoted their energy to equity and justice and maintained the highest ethical standards in their personal and professional lives.
The inaugural award will be presented to the Honorable Art Agnos, 39th mayor of San Francisco, former assembly member of California's 16th district and regional director of the U.S. Department of Housing and Urban Development (HUD) under the Clinton administration. Agnos was a founding member of the center's advisory board and will be honored for his lifetime commitment to improving the lives of others.
The presentation of the award on Nov. 9 will be followed by comments from House Democratic Leader Nancy Pelosi. Congresswoman Pelosi will share memories of McCarthy, who served as a mentor at the beginning of her 30-year political career.
"Art Agnos has devoted his life to fostering diversity, inclusion, economic justice and ethical public service," said David Donahue, senior director of the McCarthy Center. "Art is the embodiment of what the McCarthy Center represents and works to cultivate in tomorrow's leaders and citizens. Whether bettering the lives of the homeless, those with AIDS or families raising children in San Francisco, Art has never lost sight of how his position could be used to improve the futures of others. We are thrilled to have this chance to honor him and shine a light on his contributions to USF and the community at large."
At the Nov. 9 event, USF will bring together civic leaders, dignitaries, philanthropists and McCarthy Center supporters to celebrate the center's mission to train a new generation of leaders dedicated to ethical public service.
USF President Emeritus Stephen Privett, S.J., said, "Like McCarthy, Art has served as a stellar model for leaders in all fields on how to build a more humane and strong community. It's wonderful to see Art get this award and celebrate the 15th anniversary of the McCarthy Center together with him and Congresswoman Nancy Pelosi, Jaci McCarthy and the entire McCarthy family." Father Privett co-founded the McCarthy Center, along with McCarthy, in 2002, and has served on the advisory board.
About Art Agnos:
A native of Massachusetts and son of Greek immigrants, Art Agnos moved to San Francisco in 1966 and worked as a social worker for the San Francisco Housing Authority. Soon after, in 1968, he joined then-California Assembly Member Leo T. McCarthy's staff, becoming chief of staff in 1974 when McCarthy was named Speaker of the Assembly.
In 1976, Agnos defeated Harvey Milk in the Democratic primary for California's 16th district, and joined McCarthy as an elected assembly member. As assembly member for the next 11 years, Agnos pioneered innovative welfare reform programs, worked to ban discrimination based on sexual orientation and was among the first to address the growing HIV/AIDS epidemic in San Francisco.
Elected mayor of San Francisco in 1987, succeeding Dianne Feinstein who had reached a two-term limit, Agnos created an AIDS/HIV Mayor's Task Force and dramatically increased the city's AIDS budget.
As mayor, Agnos is perhaps best known for his leadership in the aftermath of the 1989 Loma Prieta earthquake. Then-Mayor Agnos ensured housing and temporary shelter for over 2,000 displaced San Francisco residents and is renowned for his decision to remove the earthquake-damaged Embarcadero Freeway (SR-480) and Hayes Valley off-ramp. This decision, narrowly supported by a 6-5 vote by the San Francisco Board of Supervisors, made way for the renewal of now-booming Hayes Valley, as well as the development of the San Francisco waterfront.
After leaving office, Agnos went on to assume the role of regional director of HUD during the Clinton administration and, like his mentor McCarthy, continued to work on behalf of residents and neighborhoods of San Francisco. He has been a strong proponent of affordable housing, spearheading initiatives against predatory lending targeted at minorities, coordinating homeless funding across the Bay Area and creating partnerships to provide rental assistance to teachers. He has worked to preserve the San Francisco Flower Mart and the San Francisco Design Center, and to support the creation of the largest amount of affordable, privately developed housing in San Francisco history at "Giants' Mission Rock," a 28-acre waterfront site across from AT&T Park.
Having helped create open space along San Francisco Bay as mayor, Agnos has also led other well-known community-based efforts to retain public access and community use of the city-owned waterfront. In a ballot initiative in 2013, Agnos helped lead a successful effort against a "wall on the waterfront" — proposed high-rise housing along a downtown span of San Francisco's Embarcadero. He was also a critical voice against the originally proposed placement of the Warriors arena on Piers 30-32, docks owned by the Port of San Francisco along the city's eastern perimeter.
In addition to his work at HUD and in San Francisco, Agnos has been frequently called upon by the U.S. State Department, the National Democratic Institute, the Asia Foundation and other international bodies to provide leadership development on democracy building, disaster preparedness and recovery.
Journalists interested in covering the Nov. 9 gala, or who would like to request an interview with Agnos, should contact Jennifer Kriz at (415) 422-2697.
###
About the Leo T. McCarthy Center
The Leo T. McCarthy Center for Public Service and the Common Good is dedicated to inspiring and equipping students at USF to pursue lives and careers of ethical public service and service to others. The center provides a non-partisan forum for education, service and research in public programs and policy-making. It supports undergraduate and graduate academic programs, including a master's program in public affairs and an undergraduate minor in public service. Additionally, the McCarthy Center provides community-based learning opportunities both domestically and abroad and facilitates government experiences for students.
About the University of San Francisco
The University of San Francisco is located in the heart of one of the world's most innovative and diverse cities and is home to a vibrant academic community of students and faculty who achieve excellence in their fields. Its diverse student body enjoys direct access to faculty, small classes, and outstanding opportunities in the city itself. USF is San Francisco's first university, and its Jesuit Catholic mission helps ignite a student's passion for social justice and a desire to "Change the World From Here." For more information, visit usfca.edu