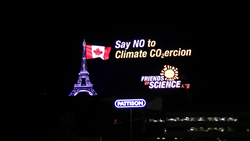 carbon dioxide has a fertilizing effect, meaning food crops have enhanced growth and productivity. These benefits to Canada will be about $100 billion per year by 2100..."
Calgary, Alberta, Canada (PRWEB) October 10, 2017
A new evaluation of the Social Costs of Carbon using the FUND economic model posted on Sept. 29, 2017 to the Friends of Science website, shows that there is a net benefit of carbon dioxide emissions in climate change. A similar work using slightly different parameters on "The Economic Benefits of Greenhouse Gas Emissions" by Friends of Science Society president Ken Gregory, shows global net benefits on the order of some $US 17/tCO2 (per tonne of carbon dioxide). These recalculations coincide with a viral fair taxation campaign in Canada with small business denouncing proposed tax changes at a petition site entitled: wtfjt.ca
Meanwhile, other major small business tax changes, proposed by the Canadian government, were denounced in full page ads that dotted Canadian newspapers on Sept. 17, 2017, echoing the web-site text calling for reconsideration. The ad was signed by well known small business supporters and investors like Arlene Dickenson of Venture Communications, Bruce Croxon of Round 13 Capital, Brett Wilson, philanthropist and entrepreneur and many more.
According to Friends of Science Society, the upcoming federal and provincial carbon taxes set to kick in Jan 1, 2018 along with a rise in provincial carbon taxes will devastate industry and small business.
The Canadian government website erroneously attributes extreme weather to warming caused by human-caused greenhouse gas emission, but the Intergovernmental Panel on Climate Change rejects the association of extreme weather with human-caused warming. The Canadian government website claims the carbon prices will reduce emissions and be a matter of fairness; Friends of Science Society disagrees, noting virtually no emissions reductions are expected from the Paris Agreement, as described by Ottawa energy policy expert Robert Lyman in "Just the Facts" of June 9th, 2017. As in Europe, the UK and Ontario, Friends of Science forecasts a rise in heat-or-eat poverty for lower middle class and the poor in the most unfair manner as reported by Euractiv April 18, 2016 .
"Most people have never thought of the benefits of the nominal warming that we have experienced," says Ken Gregory, B. App. Sc., President of Friends of Science Society and author of numerous commentaries on carbon pricing and climate science. "Canada benefits from nominal warming because warmer weather reduces the burden of fuel costs for heating during our extreme winters and improves the growing season overall. Likewise, carbon dioxide has a fertilizing effect, meaning food crops have enhanced growth and productivity. These benefits to Canada will be about $100 billion per year by 2100, if the climate is as sensitive to CO2 emissions as the climate models assume."
Phys.org reported on April 25, 2016, a widespread increase of growing-season leaf area, with the CO2 fertilization effect explaining 70%, and warming explaining 8%, of the observed greening trend. The increased greening added over the past 33 years is equivalent to 2/3 of the area of the USA mainland.
The FUND model estimates that CO2 fertilization add a global social benefit of $US10/tCO2 emitted. The monetary benefit to crop production from 1961 to 2011 was $US 4.0 trillion ($2017).
"The benefits of CO2 emissions greatly exceed the costs," says Gregory. "The carbon tax will do great harm to Canadian welfare for no benefit, and will not benefit the world."
About
Friends of Science Society is an independent group of earth, atmospheric and solar scientists, engineers, and citizens, celebrating its 15th year of offering climate science insights. After a thorough review of a broad spectrum of literature on climate change, Friends of Science Society has concluded that the sun is the main driver of climate change, not carbon dioxide (CO2).
Friends of Science Society
P.O. Box 23167, Mission P.O.
Calgary, Alberta
Canada T2S 3B1
Toll-free Telephone: 1-888-789-9597
Web: friendsofscience.org
E-mail: contact(at)friendsofscience(dot)org
Web: climatechange101.ca