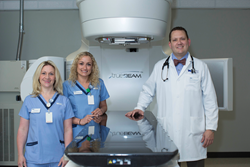 With the precision and accuracy of the TrueBeam, tumors are targeted while preferentially sparing and avoiding surrounding normal tissues. This technology benefits our patients, clients, and partnering veterinarians
Dallas, TX (PRWEB) October 05, 2017
In a promising development for pet cancer patients, Animal Diagnostic Clinic's Oncology Center, part of the collaborative VCA Pet Cancer Alliance (PCA) that just opened now provides specialized cancer treatment for pets in a caring and healing environment. Animal Diagnostic Clinic's (ADC) team of board certified specialists uses a multi-disciplinary approach to diagnosis and treatment, much like in human medicine.
ADC is one of the few hospitals in the country that has access to the latest tools, including the innovative TrueBeam TM radiotherapy system, that offers a more targeted and effective approach to treating cancer with image-guided radiotherapy. Although the technology has been available in human medicine for years, VCA is committed to bringing this technology into veterinary medicine. Advanced radiation equipment combined with collaborative clinical trials within VCA will hopefully lead to future cures for tumors that were previously difficult to treat.
"When a cancer diagnosis occurs in a family pet, our goal is to utilize a team of veterinary specialists in radiation, surgery and medical oncology to develop individualized treatment options that can provide the best outcomes in patient care and client experience," said Zachary M. Wright, DVM, DACVIM (Oncology). "Pets now have access to the latest state-of-the-art technology that offers a wide range of life-extending cancer treatments provided by caring and compassionate veterinary oncologists."
VCA's James T. Custis III, DVM, MS, DACVR (Radiation Oncology) explains, "With the precision and accuracy of the TrueBeam, tumors are targeted while preferentially sparing and avoiding surrounding normal tissues. Protocols involving fewer visits and faster treatment times, while also improving local tumor response and minimizing side effects, are now a reality for veterinary cancer patients. This technology benefits our patients, clients, and partnering veterinarians."
For pets diagnosed with cancer, VCA's Pet Cancer Alliance is at the forefront of diagnosis, treatment and collaboration. The PCA employs state-of-the-art treatment for most types of cancer, which can help to bring a wider spectrum of treatment options for a growing list of cancers.
About VCA Animal Diagnostic Clinic
VCA Animal Diagnostic Clinic provides veterinarians, along with their clients and pets, with the highest quality diagnostic and therapeutic care as it relates to cardiology, internal medicine, and oncology. Located in Dallas, specialists and technicians are trained to the highest standards and the team's thorough knowledge of the latest procedures and medicines ensures that patients receive the best care available.
At the VCA Pet Cancer Alliance at Animal Diagnostic Clinic, pets diagnosed with cancer have access to the latest tools, including the state-of-the-art TrueBeam radiation technology, and advanced life-extending cancer treatments, delivered by a multi-disciplinary team of caring and compassionate veterinary oncologists. For more information, visit https://vcahospitals.com/animal-diagnostic-clinic-dallas/hospital.
About VCA Animal Hospitals
VCA Animal Hospitals operates more than 750 small animal veterinary hospitals in the U.S. and Canada. The hospitals are staffed by more than 4,500 fully qualified, dedicated and compassionate veterinarians to give pets the very best in medical care, of which over 500 are board-certified specialists who are experts in areas such as Oncology, Cardiology, Emergency & Critical Care, and Surgery for animals. VCA Animal Hospitals provides a full range of general practice services to keep pets well and specialized treatments when pets are ill. For more information, please visit http://www.VCAhospitals.com or follow on Twitter @vcapethealth and https://www.facebook.com/VCAAnimalHospitals/.
VCA is a leading provider of pet health care services in the country delivered through more than 750 small animal veterinary hospitals in the U.S. and Canada, a preeminent nationwide clinical laboratory system that services all 50 states and Canada (Antech Diagnostics), the leading animal diagnostic imaging company in the market (Sound), and Camp Bow Wow (CBW), the nation's Premier Doggy Day and Overnight Camp® franchise, an Inc. 5000 company.