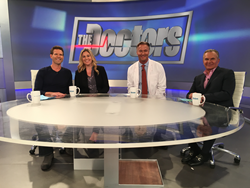 LOS ANGELES (PRWEB) October 06, 2017
One of the world's most prominent spine surgeons for nearly three decades, Dr. Todd Lanman, of Beverly Hills-based Lanman Spinal Neurosurgery, has just appeared on CBS' Emmy-winning daytime talk show, "The Doctors," revealing for the first time ever a life-changing surgical spine procedure on the long-running television show's latest season.
Appearing on the series' 10th Season, Dr. Lanman, along with his patient, educated viewers at home about the newest advancement for the spinal care world, the 2-level Artificial Cervical Disc Replacement, using the Prestige LP device.
Just this last year, Lanman completed the 10-year clinical trial for the procedure, of which he presided over as its principal investigator, leading to its recent FDA approval.
On the episode, which aired this week, Dr. Lanman and his patient are featured in pre-recorded video footage from the operating table, visually detailing the procedure that took place earlier this summer, and then were on set to discuss the results of the surgery, including its minimal recovery and healing time of less than two weeks.
Lanman, along with the show's co-hosts Dr. Stork and Dr. Ordon, then compared this new motion-preserving and statistically superior medical advancement with that of cervical fusion surgery, which carries with it a much lengthier recovery time, and restricted motion, along with the potential for complications down the line and the need for additional surgeries.
Lanman Spinal Neurosurgery is affiliated with Cedars-Sinai Medical Center's Institute for Spinal Disorders, UCLA Medical Center and Saint John's Medical Center.
For more information on Dr. Todd H. Lanman, visit http://www.spine.md. For more information on "The Doctors," visit http://www.thedoctorstv.com.