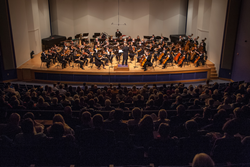 ...adding Eric's songs and showing the relationship of the classical works to the pop songs they inspired, made this all-Rachmaninoff pairing more universally relevant...— James Cassidy
Highland Heights, KY (PRWEB) October 05, 2017
The Kentucky Symphony Orchestra opens its 26th Season on October 14th, at Greaves Concert Hall, with a unique pairing of classics and rock & roll. Sergei Rachmaninoff's works — vast sonic canvases, with lush sonorities — made him the last of the truly Romantic composers. Sixty years later, such romanticism was not lost on young rock & roll singer/songwriter Eric Carmen. He borrowed themes from Rachmaninoff's Second Symphony and Second Piano Concerto respectively to write the mid-70's hit songs "Never Gonna Fall In Love Again" and "All By Myself."
Rachmaninoff, in addition to being a world-renowned pianist, wrote four piano concerti and the Rhapsody on a Theme of Paganini, 3 symphonies, 4 assorted orchestra works and 3 one-act operas, plus songs and piano pieces. Rachmaninoff emigrated to the United States in 1918 and was welcomed with offers from piano manufacturers, record companies and orchestras including the Boston and Cincinnati Symphonies. He began concert tours playing his own concerti and recitals of other composers' music. The Second Piano Concerto, his most famous work, will be performed by award-winning and acclaimed pianist Soyeon Kate Lee, currently an artist/faculty member at University of Cincinnati's College-Conservatory of Music.
As a youth, Carmen regularly attended rehearsals of the Cleveland Orchestra with his aunt, who was a violist in the orchestra. His exposure to the classics impacted his songwriting later in life, as he borrowed tunes from both Tchaikovsky and Rachmaninoff. After years as lead singer and songwriter for the Raspberries ("Go All the Way," "I Wanna Be with You"), Carmen set off on a solo career in 1975 finding immediate success with his Rachmaninoff-inspired songs. Eric continued to write and perform hits into the 80s ("Hungry Eyes," "Make Me Lose Control"). Living in his hometown Cleveland, Carmen occasionally writes, but no longer performs. Broadway veteran singer and actor (NKU alum), Aaron LaVigne will belt out Carmen's pop ballads accompanied by the KSO.
"The KSO's thematic programming philosophy would normally steer us away from such large traditional works, but adding Eric's songs from the 1970s, and showing the relationship of the classical works to the pop songs they inspired, made this all-Rachmaninoff pairing more universally relevant to our audience," remarked Music Director James Cassidy. "I have spoken to Mr. Carmen about the program, but don't know whether he will make a cameo."
The Kentucky Symphony Orchestra fills Greaves Concert Hall with Rachmaninoff and Carmen at 7:30 p.m., Saturday, October 14 at NKU, Highland Heights, KY. Reserved seating tickets are $19, $27, $35 (children ages 6-18 are 50% off) and are available online at kyso.org, by phone (859) 431-6216, or at the door.
About the KSO:
For 25 years the Kentucky Symphony Orchestra has taken the "phony" out of symphony by eliminating traditional barriers and presenting engaging, live, thematic concerts that enrich, educate and entertain the residents of Northern Kentucky and Greater Cincinnati. The KSO performs three series of concerts annually throughout Northern Kentucky.