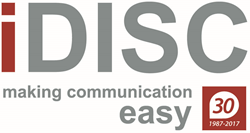 Language may be seen as a barrier to global communications, but in many cases we can turn it into a powerful ally, permitting us to approach our clients in a more personal manner and set ourselves apart from our competitors
Olesa de Montserrat, Barcelona (PRWEB) October 06, 2017
The study is based on data collected in 2016 and was made public last August. According to this ranking, iDISC is among the ten most important companies in this field in Southern Europe.
In the words of Pere Grivé, CEO of iDISC, "Language may be seen as a barrier to global communications, but in many cases we can turn it into a powerful ally, permitting us to approach our clients in a more personal manner and set ourselves apart from our competitors".
IDISC's services include translation and localization of software, product documentation, marketing materials and websites. It also provides development services for communication platforms, either based on web environments or in the form of Apps for mobile devices.
iDISC is ISO-9001 and ISO-17100 certified, in addition to being approved by the Spanish Advisory Board for Public Contracting to carry out projects for government entities.
About Common Sense Advisory
Common Sense Advisory is an independent market research firm headquartered in Cambridge (Massachusetts) that specializes in the analysis of the translation, localization, interpretation, globalization, internationalization, and consulting industries.
For more information, see: http://www.commonsenseadvisory.com
About iDISC
Since 1987, iDISC has been helping businesses and organizations to publish and disseminate their content in any language and on any device. To this end, the company develops publication platforms for a wide variety of devices and channels, and provides translation and content review services.
iDISC has specialized in the languages of Southern Europe and Latin America, as well as the minority languages used in these regions.
The company is made up of a team of professionals who are constantly learning and improving so that we can offer services to our clients based on leading-edge technology. iDISC Information Technologies has more than 30 years of experience in the industry, backed by more than 500 satisfied clients and our firm resolve to provide the best possible service every time.
For more information, see: http://www.idisc.com