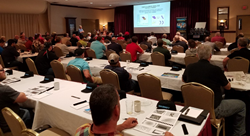 (PRWEB) October 09, 2017
Roll-Kraft, an internationally known supplier of roll tooling to tube and pipe and roll forming manufacturers, recently held its annual regional tube and pipe and roll form training seminars in Mentor, Ohio. Attendees were invited to tour Roll-Kraft's state-of-the-art corporate headquarters before and after the seminars.
Over 125 attendees from more than 54 widely diversified companies attended the two-day event at the LaMalfa Holiday Inn Conference Center in Mentor. According to organizer and speaker, Robert A. Sladky, Vice President of Tube Mill Engineering for Roll-Kraft, the seminar attracted a broad mix of attendees, from basic/experienced mill operators to maintenance and quality personnel, supervisors, and management. In addition to Sladky, other notable speakers during the two-day event included Bret Molnar and Dave Rostocil, Senior Technical Performance Specialists.
The seminar presentations were designed to allow interaction with the attendees. Sladky added that the audience participation in regard to questions, as well as interaction with the live tube and pipe and roll form displays, was exceptional.
The addition this year of interactive videos from the vast resources of Roll-Kraft's website was extremely popular among attendees. Combined with a dynamic PowerPoint presentation, follow-along seminar guide books, and real live "show and tell" mill equipment, these programs offer one of the most comprehensive and effective training programs in the industry. This detailed training is geared toward developing a standard, proven, and clear-cut method for all to follow, rather than the arbitrary "day shift way," "night shift way," "this guy's way," or "that guy's way."
All presentation materials and procedures demonstrate tested practices that have been documented as successful over the years and are currently used throughout the industry. The seminar is not a theory-only event; rather, it features tangible, reliable information that can be utilized immediately. Sladky states that this is one of the major reasons these "regional" and "in-house on-site" programs are so popular and rank high in demand and attendance.
Comments from seminar evaluations taken at the end of the program outlined many positive comments, further supporting the interest and continuation of these regional seminars.
Roll-Kraft conducts regional training seminars and events periodically throughout the year, and also offers tube and pipe training and roll forming training programs at customer's locations. Conducting a training program on-site allows the instructors to focus on the mills as they currently operate, with tooling and staff, and allows interaction with their everyday issues and experiences. According to Sladky, demand for this service during 2017, along with on-site mill line training, has outpaced all other years in which these services have been offered.
Roll-Kraft has its headquarters in Mentor, Ohio, and maintains other facilities in Lombard, Illinois (Chicago Roll Company); Ontario, Canada (Roll-Kraft Ltd.); and Houston, Texas (Roll-Kraft Texas). Calls to the company's main line, (888) 953-9400 or (440) 205-3100, are greeted by a live operator who can assist callers in quickly reaching a technician, engineer, or sales staff, who can provide immediate assistance. The company's fax number is (440) 205-3110.
Learn more about Roll-Kraft products and services by visiting roll-kraft.com. For easy and immediate contact with Roll-Kraft that transcends time zones and working hours, the website features an easy-to-use contact form.