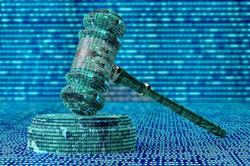 "This lab is a natural progression for us to expand our innovative work in data analytics to the intersection of law and business," said Richard D. Phillips, dean of the Robinson College.
Atlanta, Georgia (PRWEB) October 05, 2017
A groundbreaking new lab at Georgia State University is bringing business and legal scholars together with data scientists to analyze millions of litigation filings and outcomes, corporate financial disclosures, patent applications and other legal documents to identify patterns and evaluate how the law operates to predict future outcomes.
The Legal Analytics Lab, an initiative of the J. Mack Robinson College of Business with support from Georgia State's College of Law, will be housed in Robinson's big data analytics facility, the Institute for Insight. The lab will first focus on three subject areas: civil litigation, intellectual property, and compliance and corporate social responsibility.
"This lab is a natural progression for us to expand our innovative work in data analytics to the intersection of law and business," said Richard D. Phillips, dean of the Robinson College. "Interdisciplinary collaboration is core to Georgia State's DNA, and this collaboration between the colleges of Business and Law will advance the theory and practice of both disciplines."
Lab faculty, students and corporate partners will use the tools of big data analytics, including text mining, machine learning, image analysis and other methodologies, to produce original research. They also will work with strategic partners, including companies and law firms, to help these organizations uncover predictors within large volumes of data.
"We're extremely pleased our law students will have an opportunity to work with applied data in real situations," said Wendy F. Hensel, interim dean of the College of Law. "Attorneys increasingly are turning to artificial intelligence and innovative technologies to create competitive advantages in the legal market. The potential demand for young lawyers able to harness the power of analytics is tremendous."
Projects underway include the following:
-Mining corporate disclosure filings and other materials for an international provider of insurance coverage to directors and officers, to uncover predictors of securities class action lawsuit filings and litigation outcomes.
-For the U.S. Department of Labor, using text mining and machine learning techniques to analyze judges' decisions in cases where a worker's status as an employee or independent contractor is in dispute, to learn how judges are distinguishing between the two categories of workers and predict outcomes.Through the Labor Department grant, legal analytics lab faculty are working with the Free Law Project to expand a searchable archive of tens of millions of federal court opinions to make those judges' decisions free to the public.
-Using network mapping and analysis to study the relationships among plaintiffs' employment law attorneys to explain a substantial increase in Fair Labor Standards Act (FLSA) litigation (minimum wage and overtime cases) and the spread of such litigation across jurisdictions.
-Using machine learning to identify fintech patent applications and to assess their impact on the financial services industry.
Planned projects include applying text mining to financial disclosures to understand policies, procedures, fee calculations and other operations that affect the investing public, analyzing supply chain disclosures to evaluate transparency and corporate social responsibility (CSR) policies, and identifying novel metrics beyond traditional financial accounting to answer value proposition questions related to CSR and social enterprise.
The lab is also the first step in a larger curricular initiative that will develop new capabilities in legal analytics for business and law students as well as professionals in the legal community.
"The important work done at Georgia State's legal analytics lab inspires a deeper focus among our lawyers and professionals into how we might leverage big data to provide leading-edge legal services to our clients," said Brett Bartlett, a partner with Seyfarth Shaw LLP.