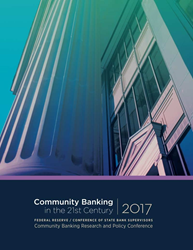 ST. LOUIS, MO. (PRWEB) October 05, 2017
The Federal Reserve System and the Conference of State Bank Supervisors (CSBS) today released findings from a national survey of community bankers presented at the fifth annual Community Banking in the 21st Century Research and Policy Conference held at the Federal Reserve Bank of St. Louis.
The survey report, provides a comprehensive view of what community bankers are thinking about the key issues facing their industry. It is augmented by excerpts of interviews conducted by state banking commissioners with community bankers.
Survey responses were obtained from 611 community banks in 37 states during the time period from April-July 2017. The questions covered lines of business, regulatory compliance, competition and consolidation. They focused specifically on small business lending.
"I am encouraged by the results in this year's survey of community bankers, which suggest that the sector, after many years of tumult, might be achieving stability," said 2017 CSBS Chairman Albert L. Forkner in his foreword to the report. "Commercial real estate lending propelled portfolio growth last year. Community banks remained a strong source of business lending. They had an active year in mortgages and home equity. Moreover, community banks saw greater opportunities for business growth."
Forkner, who also serves as the state banking commissioner for the Wyoming Division of Banking, noted that challenges do remain: "Economists at the Federal Reserve Bank of St. Louis calculate that, in 2016, compliance costs for community banks once again increased over the prior year, from $5 billion to $5.4 billion. Also, the survey suggests that recent federal mortgage regulations might be depressing credit availability."
The banker interviews, referenced as "Five Questions for Five Bankers," were conducted in 30 states. Each commissioner asked five community bankers detailed questions with respect to five key areas: economic trends, regulation, small business lending, management succession and technological innovation.
Interviewed bankers said that they struggle to compete with credit unions, which benefit from tax exemptions and other regulatory subsidies that they say create an uneven playing field. Although some of them also are wary of online lenders, others said that "fintech has extraordinary potential" for the banking industry. One noted that bankers "don't have to be on the leading edge but need to be aware that things are changing."
National Survey Panel Discussion
During the final session of the 2017 Community Banking Research Conference, the results were discussed as part of a panel moderated by David Hanrahan, founding president and chief executive officer of Capital Bank of New Jersey, Vineland, N.J. The guest panelists included:

Brian Graham, chief executive officer, Alliance Partners;
Ron Green, chief information security officer and group executive, MasterCard; and
Steven Streit, founder, president and chief executive officer, Green Dot Corp.
2017 CSBS Community Bank Case Study Winner: The University of Akron
This year's conference also featured a presentation from students from the University of Akron, the winners of the 2017 CSBS Community Bank Case Study Competition.
For more information about the conference, or to view sessions online, see the conference website.
# # #
Headquartered in St. Louis, with branches in Little Rock, Louisville and Memphis, the Federal Reserve Bank of St. Louis serves the states that comprise the Federal Reserve's Eighth District, which includes all of Arkansas, eastern Missouri, southern Indiana, southern Illinois, western Kentucky, western Tennessee and northern Mississippi. The St. Louis Fed is one of 12 regional Reserve banks that, along with the Board of Governors in Washington, D.C., comprise the Federal Reserve System. As the nation's central bank, the Federal Reserve System formulates U.S. monetary policy, regulates state-chartered member banks and bank holding companies, provides payment services to financial institutions and the U.S. government, and promotes financial literacy, economic education, and community development.
The Conference of State Bank Supervisors is the national organization of bank regulators from all 50 states, American Samoa, District of Columbia, Guam, Puerto Rico and U.S. Virgin Islands. State regulators supervise roughly three-quarters of all U.S. banks and a variety of non-depository financial services. CSBS, on behalf of state regulators, also operates the Nationwide Multistate Licensing System to license and register non-depository financial service providers in the mortgage, money services businesses, consumer finance and debt industries.