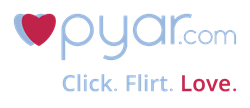 "Pyar's goal is to revolutionize the dating world by becoming the primary platform for South Asian singles who are looking for love online."
North Brunswick, NJ (PRWEB) October 07, 2017
Pyar – a new dating platform geared toward the global South Asian community – is launching its website and mobile app in October. The platform is packed with new and innovative features that single men and women with similar values from anywhere in world can use to safely and easily connect with likeminded people.
"Pyar's goal is to revolutionize the dating world by becoming the primary platform for South Asian singles who are looking for love online," says Vidyadhar Garapati, CEO of Pyar. "This is not a matrimonial site – which people in South Asia are more accustomed to - nor is it a simplistic 'swipe left or right' site. We want you to be able to share so much about yourself – your heritage, religion, hobbies, interests, career, and search for someone in the same variety of categories, so you can find a true match, chat, and form a true connection with him or her."
Online dating in Southern Asia primarily consists of matrimonial sites, grounded on the idea that the first meeting between two paired users will be to talk about their wedding. The current generation grew up in a much more social landscape, no longer needing their parents to search through 'suitable' profiles. The minds behind Pyar took notice of this niche generation of South Asian singles who are open to casual meetings and online interactions with potential dates and mates who share their cultural values.
This need inspired the development of Pyar.
The word Pyar, in Hindi, is the most commonly known colloquial term for love. The word Pyar and its message resonates with over one billion individuals of South Asian heritage worldwide.
A User-friendly Experience
Pyar's mission is to guide single people of South Asian heritage/nationality through the process of making meaningful matches and find lasting connections. Pyar provides an online dating experience through innovative filtering, strong safety measures, stellar customer service, and a personal touch that resonates with people at every stage of relationship readiness.
Pyar Percentage
One of Pyar's unique features is the Pyar Percentage. The platform evaluates a person's wants in a match, and gives said match a percentage based on how closely they responded to the member's desires. The higher the percentage, the more likely the users will form a true connection.
Trophies
Another great feature is the ability for all Pyar members to earn 'Trophies' based on specific information entered on their profile. The more trophies on a person's profile, the more likely they are to be an authentic person looking to connect with and meet someone. There are five types of trophies that help verify a user is 'real.' Trophies are clearly visible on a user's profile.
There are 5 types of trophies that verify users:

Email trophy: The member has entered and verified their email address during registration.
Phone verification trophy: The member has entered and verified their phone number during registration.
Social media trophy: The member has connected their Pyar profile to their Facebook and/or LinkedIn accounts.
Profile photo trophy: The member has successfully uploaded at least one photo to their profile.
Profile completion trophy: The user has filled out all necessary information on their profile.
Launch Offer
As a thank you for pre-registering on Pyar, people will receive a 30-day trial of premium membership once Pyar is active. All a person needs to do is go to http://www.pyar.com and enter their email address.
Subscription Offers
After Pyar is live, anyone who registers will automatically receive a 14-day trial.
Pyar members can also extend their complimentary premium membership by referring a friend. If this referral signs up for Pyar, the member is given an extra 14 days of premium membership.
After your trial has concluded, you can continue using Pyar's premium membership at a low-cost, month-to-month subscription. Otherwise, you can still use Pyar without paying. There are some limitations placed on Basic Membership, unable to use such features as:
Advanced search options
Sending and responding to messages
Viewing reverse and mutual matches
Live chat
Invisible browsing
Seeing who viewed your profile
Message receipts
A member can upgrade their account to premium anytime at a low-cost month-to-month subscription fee, removing all limitations.
No Obligation
A Pyar subscription is on a month-to-month basis. There is no recurring payment. Members are notified via email 5 days before the subscription is scheduled to expire, and again one day before. To continue a premium subscription, members must resubmit their payment information every 30 days, which starts after the trial membership has concluded.
Security Features
Monitors and administrators consistently check the Pyar website and mobile app for any flaws in the system, as well as protect members from any offensive or spam users. Any reported events and users from trusted members will be immediately and thoroughly taken care of. Members are strongly encouraged to never give out personal or financial information to another user online, and to get to know the other member online before meeting in person.
Delete Account
Pyar will never charge members to delete their account, regardless if their subscription is trial, basic, or premium. The deletion process is comprehensive, and removes all traces of any interactions they have had on Pyar.
How to Join
Interested parties can pre-register for Pyar at http://www.pyar.com, and will be notified via email when the site is live and can build their profile. Pyar will also be downloadable on any internet capable mobile device via Apple's App Store or the Google Play Store.
More Information
For more information, please visit http://www.pyar.com, or contact Michael Fromm, Digital Marketing Manager, at 732-289-9089 or email michael.fromm(at)movers(dot)com.