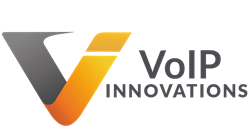 The products that VoIP Innovations can now offer are programmable and truly limitless.
Pittsburgh, PA (PRWEB) October 18, 2017
VoIP Innovations, the first wholesale VoIP provider to offer programmable API services, has announced their new service offerings as well as their new company branding.
They have been delivering a reliable VoIP network to their customers for 10 years, but with their recent acquisition of Apidaze, (an on-demand communication integration service,) the products that VoIP Innovations can now offer are programmable and truly limitless.
VoIP Innovations will now have three different elements as part of their complete offering:

First, is their wholesale VoIP network. Here, customers can access hundreds of thousands of phone numbers in their Number Warehouse and add outbound calling, E911, Fraud Detection, Hosted Billing, and an End User Portal.
Second, is their Programmable Platform made possible by the Apidaze technology. Customers can now easily customize services to fit their specific communications needs.
Third, is their brand new Showroom of services. Customers who are looking for a pre-built communications solution will find a variety of curated applications and services that will allow them to easily get up and running.
The Programmable Services and Showroom are both in Beta right now and are expected to be released to production this coming mid-fourth quarter.
VoIP Innovations is breaking out as the first wholesale VoIP provider to offer white label programmable network APIs. This gives their customers the tools to quickly build exactly what they need for their business so they can start generating additional revenue.
For more information about their new services or rebranding efforts, visit their new website or contact them today.
# # #
About VoIP Innovations:
VoIP Innovations provides the largest phone number and termination VoIP footprint in North America. Their network includes hundreds of thousands of numbers in over 8,500 rate centers across the US and Canada and in over 60 countries around the world. With the acquisition of Apidaze, a leading CPaaS (Communications Platform as a Service) provider, all VoIP Innovations services are now programmable. Customers can build their own services on the VoIP Innovations network or add voice, messaging, fax, and video to apps, services, or business processes. VoIP Innovations also offers an ever-expanding portfolio of telecom services that were built on their Programmable Services platform. VoIP Innovations is owned by ABG Capital and is based in Pittsburgh, PA. To learn more, please visit the VoIP Innovations Blog.