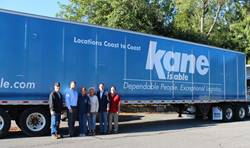 Scranton, PA (PRWEB) October 06, 2017
Third-party logistics provider Kane Is Able, Inc. (KANE - http://www.kaneisable.com) is proud to be supporting national relief efforts to aid those in need after Hurricane Harvey. Partnering with the Borough of Archbald and Pennsylvania State Representative Kevin Haggerty (D-112) KANE donated a trailer which was used to collect items for residents of Texas.
"As logistics professionals, we all have tremendous power to make a positive impact on those who've experienced disasters," said Michael Gardner, President & CEO of KANE. "As civic-minded community leaders, we've pulled together and our friends and neighbors have donated literally thousands of items for those in need."
On Monday, the fully loaded trailer will be driven to Rockport, Texas, where the food, household goods, clothing, personal items and more will be sorted and distributed to those in need.
"No matter what the disaster, people from all over the nation have always stood up to help those in need, said Haggerty. "I am proud to participate in this relief effort for the people of Texas and to work closely with the borough of Archbald and KANE to see that those in need receive help."
In addition to this work, KANE is a founding member of ALAN (American Logistics Aid Network). Today, ALAN comprises hundreds of supply-chain businesses who stand poised to respond in the event of disasters. KANE recognized early-on the unique capabilities of supply chain professionals to support disaster relief in ways that highlight their strengths and engage their business interests.
About Kane Is Able
Kane Is Able is a third-party logistics provider that helps manufacturers and their retail partners efficiently and effectively distribute goods throughout the United States. KANE's value-added logistics services include retail consolidation, nationwide warehousing and distribution, contract packaging, and transportation solutions.
Pictured from left are: Bob Day, KANE truck driver; Randy Castellani, Chief of Staff, Rep. Kevin Haggerty's Office; Erin Owen, Archbald Borough; Shirley Barrett, Archbald Mayor; PA State Representative, Kevin Haggerty; Robert Munley, Legislative Assistant, Representative Kevin Haggerty's Office.
# # #