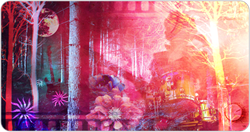 When we first reached out to Christie, we crossed our fingers, hoping for a 'yes,' as Wild Dogs knew that Christie would be a key partner, critical to the success of the project
COLUMBIA, Md (PRWEB) October 10, 2017
Christie®, a world leader in creating and sharing the world's best visual and audio experiences, has joined forces with the Howard Hughes Corporation® (NYSE: HHC) and Wild Dogs International to provide attendees of the OPUS 1 festival with an impressive, multi-media experience on Saturday, Oct 7. Led by the Christie 360 Experiential Studios, Christie is providing creative content, consulting advice and advanced projection and display systems to the extravaganza.
Scheduled from 4 to 11 p.m. in Merriweather Park at Symphony Woods, this inaugural festival blends immersive art installations, mesmerizing music performances and advanced projection mapping displays with artisanal offerings, curated and produced by Wild Dogs International, a visionary, New York City-based art production, curation and design company.
Presented by The Howard Hughes Corporation®, the developer of the Downtown Columbia district, OPUS 1 will be composed of eleven large scale activation areas featuring more than 100 musicians, performers and artists - including Christie 360, whose The Forest Between performance will enliven The Enchanted Forest zone, alongside The Forest Gateway performance by visualist Eric Epstein, sculptor Brandon Ellis and composer Caroline Polachek. The Enchanted Forest is the festival hub, between the Culinary Village, the iconic Chrysalis Main Stage and the varied interactive audio-visual installations of Symphony Woods.
"When we first reached out to Christie, we crossed our fingers, hoping for a 'yes,' as Wild Dogs knew that Christie would be a key partner, critical to the success of the project," said Ken Farmer, creative director, Wild Dogs International. "At Wild Dogs, we're focused on creativity and so Christie was a good fit with us culturally, since Christie's experiential studio is a creative force in its own right. As well, it brings a high-level of project management expertise, encompassing creative content, robust products and technical expertise, which is crucial in achieving this signature event."
Denys Lavigne, vice president, Global, Christie 360, echoed Farmer's conclusions. "Right from start, we bought into Ken's vision for this event as we felt it represented current trends in how digital media, art and urban lifestyles are connected in public spaces. In addition, we were impressed with HHC's flair and leadership in supporting this type of event. With this project, Christie continues its evolution as a more complete technology and experience provider, collaborating with partners such as Wild Dogs and HHC to deliver the innovative, multi-layered artistic and cultural experiences that create a unique sense of connection with the space and the audience. I believe Christie's unique combination of skills, technology and fundamental belief in the value of exploring new paths involving digital media led the Howard Hughes Corporation and Wild Dogs to partner with us, to deliver the promise of this impressive event," said Lavigne.
Christie Creativity Epitomized by The Forest Between Zone
"The inspiration behind our multimedia installation at OPUS 1, The Forest Between, is the forest itself, and the rich legacy of the Merriweather® Post Pavilion. The space is made immersive with audio and projection in an oval 360 degree configuration around the visitor," said Tara DeSimone, senior producer, Christie 360. "We've approached the six projection 'scrims' as windows onto other dimensions, which may or may not exist between the trees. We tune in and out of these worlds, diving into natural details, down into the cellular and back out to the textured, organic and psychedelic."
Zones with Eye-Catching, Soul-Inspiring Visuals Powered by Christie
In addition to delivering creative content for its own zone, Christie donated a wide range of projection and display equipment and experiential consulting services to help the overall event come to life. Christie products used span almost 40 advanced digital projectors, including the Christie Boxer, Christie Roadster, Christie M Series, Christie Q Series, Roadie HD +35K, and Christie Roadster HD 10K-M projectors. Their varied, multi-media content will be managed and processed by multiple Christie Pandoras Box Server that unite state-of-the-art rendering technology with intuitive media and show control, powered by a versatile render-engine for real-time compositing in 3D and which allows for projection mapping onto any shape and any surface.
Concluded Farmer, "For Christie to create its own content and work with other content providers on multiple installations involving multiple projectors, cloud data and various processors - including Christie Pandoras Box and Wild Dogs' systems - is not a trivial task. Christie delivered, suggesting inventive changes as needed, accommodating changes with ease and in general making my job easier. I doubt I could find a higher level of professionalism and I look forward to our next project together."
About Christie and Christie 360
Christie Digital Systems USA, Inc. is a global visual and audio technologies company and a wholly-owned subsidiary of Ushio Inc., Japan (JP:6925). Consistently setting the standards by being the first to market some of the world's most advanced projectors, complete system displays, and cinema audio solutions, Christie is recognized as one of the most innovative visual technology companies in the world. From retail displays to Hollywood, mission critical command centers to classrooms and training simulators, Christie display solutions and projectors capture the attention of audiences around the world with dynamic and stunning images, accompanied by awe-inspiring sound. And the company's comprehensive understanding of experiential content creation and digital delivery sees blending solid creative and technical skills to help clients define, create and deploy best-of-class digital experiences through its Christie 360 team.Visit Christie 360 and http://www.christiedigital.com.