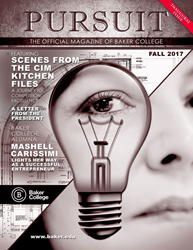 "It is a tremendous honor to have led and guided the development of 'PURSUIT' from concept to reality," said Dr. Cleamon Moorer, Jr., dean of Baker College of Business and editor-in-chief of "PURSUIT."
Flint, Mich. (PRWEB) October 06, 2017
Baker College, which opened more than 100 years ago and is Michigan's largest independent not-for-profit college, is continuing its evolution with the launch of its first-ever publication, "PURSUIT: The Official Magazine of Baker College."
A higher learning lifestyle publication, "PURSUIT" is designed to inform, engage and inspire readers with features on Baker College's best and brightest leaders, students and alumni. With 12 campus and extension sites across the state and online degree programs accessible worldwide, each issue of "PURSUIT" will shine a spotlight on at least two of Baker's many colleges and programs, with the inaugural edition highlighting the College of Business Administration and the Culinary Institute of Michigan.
"It is a tremendous honor to have led and guided the development of 'PURSUIT' from concept to reality," said Dr. Cleamon Moorer, Jr., dean of Baker College of Business and editor-in-chief of "PURSUIT." "I am very excited about this new endeavor, to share with the world what we at Baker College have been privileged to know for a very long time."
The first-ever edition of "PURSUIT" will be available on Oct. 6, 2017, and will be published bi-annually thereafter, every spring (April) and fall (October). "PURSUIT" will be distributed by e-mail to current students, alumni, faculty, staff and community partners of Baker College, and also will be available in print at select on-campus locations. More information on "PURSUIT," and e-editions, will be available online at https://www.baker.edu/pursuit.
Launching its own magazine is just the latest step for Baker College in the evolution of the 100+-year-old organization. Earlier this year, Baker unveiled a refreshed personality for the college with its new "BakerProud" brand identity, and is investing additional resources in further developing and improving its social media channels. In another first, the college started its fall 2017 school year on a semester schedule for the first time, instead of quarters, offering a variety of advantages for current and incoming students.
"The launch of 'PURSUIT' gives our constituents and communities yet one more reason to be BakerProud," said Dr. Bart Daig, Baker College system president. "Everyone at Baker College is here in pursuit of a better way forward, and this publication provides an exciting platform to showcase firsthand how others are pursuing and achieving their dreams in partnership with Baker College."
About Baker College
Baker College is Michigan's largest independent not-for-profit college, with 12 campus and extension sites across the state, as well as 100 percent online program options, across 100 undergraduate and graduate degree programs. Founded in 1911, Baker College represents a better way forward for more than 3,300 faculty and staff, 17,000 students and hundreds of thousands of alumni. For more information on Baker College, visit http://www.baker.edu or follow Baker College on Twitter, Facebook and Instagram.