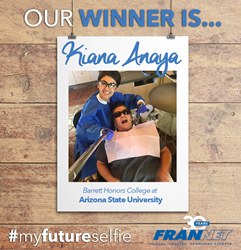 LOUISVILLE, KY (PRWEB) October 06, 2017
To motivate future generations of business owners, FranNet's #MyFutureSelfie scholarship contest asked college students from around the nation to send a selfie of themselves working in the career they intend to pursue. Out of more than 450 social media submissions, Arizona State University freshman Kiana Anaya was selected as the first-ever recipient of the #MyFutureSelfie $10,000 Scholarship, which will go directly toward her college tuition fees. Anaya won the award for her creative selfie depicting her as a dentist working on a patient.
Anaya is an Arizona native and is currently studying Global Health at the Barrett Honors College at ASU. She aspires to be a dentist and one day own and operate a dental practice. As a Hispanic woman, she hopes to empower other women to pursue higher education and a career in dentistry.
"When I found out I was the recipient of a $10,000 scholarship, I was so shocked and excited. I immediately called my mom and dad and told them the good news," said Anaya. "I've always wanted to run a business and this scholarship supports me in gaining the necessary skills I need to be a successful dentist, follow my entrepreneurial passion and help others. I want to be a leader and running my own business will allow me to have that voice, independence and flexibility in my career."
For three decades, FranNet has helped thousands of individuals find their perfect franchise match through one-on-one business consultations. To celebrate its 30th anniversary, FranNet announced a scholarship program to help potential entrepreneurs achieve their dreams of business ownership.
After seeing the overwhelming response in just the first year of the contest, FranNet plans to continue the annual scholarship of $10,000 to qualified college students.
"We are excited to help deserving college students like Kiana achieve her dreams by offering this annual scholarship," said Jania Bailey, CEO of FranNet. "For more than 30 years, we've been consulting people to help them achieve their business goals. To help a future entrepreneur who is just starting out on this path is extremely rewarding."
ABOUT FRANNET:
FranNet is North America's most respected leader in matching individuals with franchise ownership opportunities. Founded in 1987, FranNet has more than 100 experienced consultants across the United States, Canada and Germany. FranNet uses a proprietary profiling and consultative process to determine a business model unique to each client's goals, skill sets and interests, and has matched thousands of prospective business owners to rewarding small business franchise opportunities. Headquartered in Louisville, Kentucky, FranNet is the only locally-owned and operated franchised consulting firm.