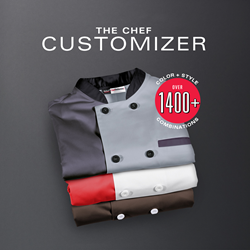 Our Chef Coat Customizer is an industry first and ideal for the unique chefs and restaurants who often want individualized looks and custom-made coats
Fort Lauderdale, FL (PRWEB) October 06, 2017
ChefUniforms.com, a leading manufacturer and distributer of high-quality chef and hospitality apparel worldwide launches an innovative Chef Coat Customizer tool. Using the Artifi platform, customers can now order and coordinate their chef coats to the color scheme of their workplace to complete their brand's image.
"Our Chef Coat Customizer is an industry first and ideal for the unique chefs and restaurants we work with who often want individualized looks and custom-made coats," says Athena Petrou, Director of Design at ChefUniforms.com. "It was a pleasure to work hand-in-hand with Artifi to design an exclusive customizer for our website that allows our customers to tailor every aspect of their coat, including fabric and trim colors, logos and text embroidery, with the ability of seeing a mockup of the design before purchasing."
Yash Shah, CTO of Artifi, states, "Athena and her team at ChefUniforms had a very clear vision for the Chef Coat Customizer. The coat customizer now allows customers to design coats based on their brand guidelines. Artifi is glad to be part of this innovative step by ChefUniforms in the uniform industry."
To learn more about ChefUniforms.com and their chef coat customer, visit their website at http://www.chefuniforms.com.
About ChefUniforms.com
ChefUniforms.com is an apparel brand that manufactures and distributes high quality culinary and hospitality apparel worldwide. Chef Uniforms remains determined in their mission to provide a large selection of innovative high-quality chef apparel at the best prices. Chef Uniforms corporate office is based in Fort Lauderdale, Florida with a distribution center near Atlanta, Georgia. For more information, visit http://www.chefuniforms.com.