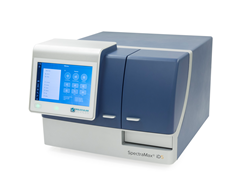 This complete solution with built-in near-field communication (NFC) tags, ability to capture flash assays with ease, onboard user access control for multi-user labs, and intuitive touchscreen interface, enables our customers to easily increase productivity
Sunnyvale, California (PRWEB) October 13, 2017
Molecular Devices announced today the launch of the new SpectraMax® iD5 Multi-Mode Microplate Reader, a feature-rich platform that expands the boundaries of scientific research.
This five-mode microplate reader with automatic filter identification and western blot capability is the complete laboratory solution to help scientists increase their research capabilities and comes with built-in absorbance, fluorescence, luminescence, time-resolved fluorescence (TRF), and tunable fluorescence polarization (FP) read modes. In addition, the SpectraMax iD5 reader can be expanded to include bottom-read luminescence, TR-FRET, HTRF®, BRET, dual luciferase reporter assays with injectors, and western blot detection. With optimized reagents and the industry-leading data acquisition and analysis tool, SoftMax® Pro 7 Software, the SpectraMax iD5 reader is an all access pass to the next big breakthrough in scientific research.
"This complete solution with built-in near-field communication (NFC) tags, ability to capture flash assays with ease, onboard user access control for multi-user labs, and intuitive touchscreen interface, enables our customers to easily increase productivity", said Greg Milosevich, President of Molecular Devices. "In addition, our SoftMax Pro GxP Compliance Software extends Molecular Devices leading data acquisition and analysis solution into regulated laboratories working under GMP, GLP, 21 CFR Part 11, and other similar guidelines for secure electronic records."
About Molecular Devices, LLC
Molecular Devices is one of the world's leading providers of high-performance bioanalytical measurement systems, software and consumables for life science research, pharmaceutical and biotherapeutic development. Included within a broad product portfolio are platforms for high-throughput screening, genomic and cellular analysis, colony selection and microplate detection. These leading-edge products enable scientists to improve productivity and effectiveness, ultimately accelerating research and the discovery of new therapeutics. Molecular Devices is committed to the continual development of innovative solutions for life science applications. The company is headquartered in Silicon Valley, California with offices around the globe.
For more information, visit:
http://www.moleculardevices.com/SpectraMaxiD5