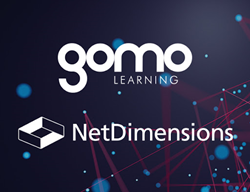 (PRWEB) October 09, 2017
Customers of NetDimensions, the market-leading provider of performance, knowledge, and learning management systems, will now be able to use world-class authoring tool gomo to publish training courses directly to their LMS.
The exciting new integration will save L&D teams hours by doing away with complicated SCORM and FTP uploads and allow gomo courses to be published directly to NetDimensions' LMS. The integration is the successful result of direct end-to-end testing carried out by engineering teams at both companies following NetDimensions' incorporation into Learning Technologies Group in March 2017.
Clients who have a gomo licence and NetDimensions' LMS, NetDimensions Talent Suite, can now enable integration between the award-winning platforms, create an eLearning course in gomo and choose the NetDimensions publishing option.
The breakthrough has been made possible by PENS (Package Exchange Notification Services), a publishing process supported by both platforms which allows one-click publishing from an authoring tool to an LMS.
Mike Alcock, Managing Director of gomo, said: "This integration brings huge benefits for gomo's NetDimensions customers. They can now publish their gomo courses directly to their NetDimensions LMS, and content updates can also be pushed to their learners in seconds.
"The NetDimensions and gomo integration highlights the benefits of both companies being part of Learning Technologies Group. Because we're part of the same family, our engineering teams were able to work together closely and efficiently to produce a solution that offers huge benefits to our mutual customers."
Bill Mastin, Senior VP at NetDimensions, said: "The gomo NetDimensions integration simplifies and speeds up the deployment of content creation through to consumption for NetDimensions customers.
"In a mobile world, having HTML5 fully responsive content creation ability in your platform is key to delivering an end-to-end solution and I'm very happy we can offer it with the gomo and NetDimensions partnership and integration.
"It has been amazing to see NetDimensions customers start to take advantage of the full group products and services. LTG can bring together the right products and services for any organization that needs to enable their workforce or educate their extended enterprise."
About NetDimensions
Established in 1999, NetDimensions is a global provider of learning, knowledge and performance management solutions to highly regulated industries.
NetDimensions provides companies, government agencies and other organizations with talent management solutions to personalize learning, share knowledge, enhance performance, and manage compliance programs for employees, customers, partners, and suppliers.
NetDimensions' solutions also include custom content and learning portal development services, as well as off-the-shelf course libraries and regulatory compliance courseware developed by NetDimensions' subject matter experts and content partners.
NetDimensions' award-winning solutions have been chosen by leading organizations worldwide including ING, Cathay Pacific, Chicago Police Department, Geely Automotive, Norton Healthcare, and Fresenius Medical Care.
NetDimensions is ISO 9001 certified and NetDimensions' Secure SaaS practices are ISO 27001 certified.
NetDimensions is part of Learning Technologies Group plc (LTG).
For more information, visit http://www.NetDimensions.com or follow @netdimensions on Twitter.
About gomo
Since gomo's launch in 2014, its hassle-free, multi-device learning suite has won multiple awards including two Brandon Hall awards for the Best Advance in Content Authoring Technology. gomo was named the #1 authoring tool in the world in 2016 by industry expert Craig Weiss and, in 2017, gomo featured on Training Industry's list of 'Top 20 Authoring Tools as well as 'Core Leader' on Fosway Group's 9-Grid™ authoring system report.
gomo's global customer base includes organizations such as Jaguar Land Rover, L'Oreal, EE, British Airways, Volvo, Santander, PwC, Boots and Deloitte.
gomo is part of Learning Technologies Group plc's award-winning group of specialist learning technology businesses.
For more, visit gomolearning.com.