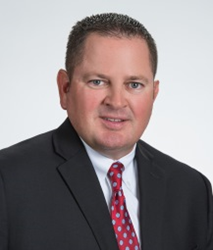 Jerry is an ideal fit with our growing office and will be a wonderful resource for our public company audit clients
Tampa, Florida (PRWEB) October 09, 2017
Frazier & Deeter announced the addition of Jerry Johnson, CPA as its newest Principal. Johnson joins the firm's audit practice and will be part of the Tampa office.
"Jerry Johnson has more than 20 years of public company audit experience," said Seth McDaniel, Managing Partner of Frazier & Deeter. "We are delighted to have Jerry join the firm to help us serve our public and private audit clients."
Before joining Frazier & Deeter, Johnson was Managing Director with KPMG's audit practice. He has worked with a number of publicly traded companies, reviewing SEC filings, testing of internal controls over financial reporting, auditing merger and acquisition transactions, as well as performing, reviewing, and supervising audits and other attestation engagements. Johnson has also assisted privately held companies to prepare for initial public offerings.
Johnson's industry expertise includes the areas of manufacturing and distribution companies, food and beverage companies and health care providers.
"Jerry Johnson brings tremendous expertise to our Tampa audit team," said Mike Hendricks, Office Managing Partner for Frazier & Deeter's Tampa Office. "Jerry is an ideal fit with our growing office and will be a wonderful resource for our public company audit clients."
"Frazier & Deeter is one of the fastest growing firms in the country and they have built an audit practice that is very highly regarded," said Johnson. "I am excited to have the opportunity to help continue to build this important practice."
Johnson completed his MBA and Accounting degrees from the University of West Florida (Pensacola), and is currently a Board Member for both the Accounting Advisory Board of Florida Southern College and Junior Achievement Tampa Bay. He is also the Founder of the Johnson Invitational Charity Flats Fishing Tournament.
About Frazier & Deeter
Frazier & Deeter is a nationally recognized CPA and advisory firm headquartered in Atlanta, Georgia. The firm provides tailored services across a wide range of tax, audit, accounting and advisory needs to achieve each client's unique financial goals.
Frazier & Deeter has been named one of the top Accounting Firms to Work For, a top Ten Firm for Women, the 56th largest CPA firm and one of the Fastest Growing CPA firms among the top 100 firms in the U.S. by Accounting Today magazine. Frazier & Deeter has also been named a Best of the Best CPA firm by INSIDE Public Accounting eleven times.