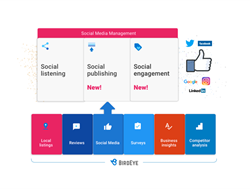 We've given businesses an easy way to stay on top of all their customer feedback and ensure customer happiness using just one platform.
Palo Alto, CA (PRWEB) October 06, 2017
BirdEye, the leading reputation marketing and customer experience platform, today announced the launch of full-service social media management capabilities. With the new social media module, businesses have total control over all aspects of their online reputation: social networks, review sites, and surveys.
"Today's businesses need to pay close attention to customer feedback from all channels. Using one platform for review management, another one for customer surveys, and a third for social media management is not only time-consuming, it's ineffective," said Neeraj Gupta, COO at BirdEye. "We've given businesses an easy way to stay on top of all their customer feedback and ensure customer happiness using just one platform."
More than 20,000 businesses (small businesses, mid-sized businesses, enterprises and resellers) use BirdEye to get new reviews as well as monitor and respond to reviews from 200+ sites in real-time, and they also use the platform to create and send engaging surveys (NPS, CSAT). Now, with BirdEye's social media management tools, businesses can incorporate social into their digital strategy.
BirdEye's social media management includes Social Listening, Social Publishing, and Social Engagement. Features include:

Listen to what customers are saying on Facebook, Twitter, Google+, Instagram, YouTube
Track mentions, hashtags, keywords on 300 million websites, forums, news sites
Post to multiple social networks at once — Facebook, Twitter, Google+, LinkedIn
Schedule posts in advance with a publishing calendar
Add beautiful photos and videos to posts
Track audience engagement statistics (likes, comments, shares, retweets) at individual post level
Analyze sentiment of social media comments via Natural Language Processing
Reply to social media comments directly from one unified dashboard
Flag comments as support tickets and assign them to employees
Add unlimited users and unlimited social accounts
Although social media management may be a new practice for many small business owners, the intuitive, straightforward design of BirdEye's social tools means businesses can get started managing their social networks alongside reviews and surveys with no training at all.
"Our goal is to help businesses grow quickly without adding extra work to their day, so we've made social media management simpler and more accessible than ever," said Sumit Jain, CTO of BirdEye. "Maintaining a strong social presence and responding quickly on social turns followers into customers, and customers into advocates."
About BirdEye
The BirdEye platform lets businesses tap into the most powerful source of revenue: happy customers. Gather, analyze and act on customer feedback from social media, review sites and surveys about brands, locations products, and services -- in real-time, from one place. Access deep insights to understand exactly what customers like and dislike in order to solve problems instantly and improve operations. Whether you have one location or thousands, the BirdEye platform turns your customers into a marketing engine that accelerates positive word-of-mouth, boosts ratings, and increases revenue. The BirdEye platform is trusted by 20,000+ businesses and prominent F1000 enterprises. BirdEye was founded in 2012 by Google, Yahoo, Amazon alumni and backed by Silicon Valley who's who including Trinity Ventures, Salesforce founder Marc Benioff and Yahoo co-founder Jerry Yang.