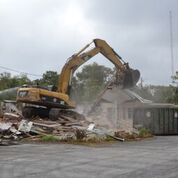 Tarpon Springs, FL (PRWEB) October 06, 2017
Crews are demolishing the old Golf View Motel at 1475 S Pinellas Avenue, Tarpon Springs, to make way for a new $10 million dollar Medical Arts Building that will house multiple specialties and physicians to satisfy more health care needs for North Pinellas residents.
Before the Medical Arts Facility goes up, however, this property site will serve as a staging area for construction crews as they work on a multi-million dollar renovation and expansion of the Emergency Department at Florida Hospital North Pinellas.
Last month, children from three after school programs – the Boys & Girls Club, Citizen's Alliance for Progress and the Tarpon Springs Recreation Department – got to graffiti the motel walls, then create canvas art with their handprints, to be used as the permanent artwork inside the new Medical Arts Building.
###
About Florida Hospital North Pinellas
Florida Hospital North Pinellas, located in Tarpon Springs, is a 168-bed, full-service hospital specializing in cardiovascular medicine, emergency medicine, orthopedics, wound healing, sleep medicine, women's care, and general surgery including minimally invasive and robotic-assisted procedures. Florida Hospital North Pinellas has been nationally recognized by the American Heart Association, the American Stroke Association, The Joint Commission, and The Leapfrog Group, for excellence in providing quality patient care. Florida Hospital North Pinellas serves both the Pinellas and Pasco communities of West Central Florida. Part of the Adventist Health System, Florida Hospital is a leading health network comprised of 26 hospitals throughout the state. For more information, visit http://www.FHNorthPinellas.com.
About Florida Hospital, West Florida Division of Adventist Health System
Florida Hospital, the West Florida Division of Adventist Health System, is a not-for-profit 1,295-bed hospital system composed of 9 hospitals including Florida Hospital Tampa/Florida Hospital Pepin Heart Institute, Florida Hospital Carrollwood, Florida Hospital at Connerton Long Term Acute Care, Florida Hospital North Pinellas, Florida Hospital Wesley Chapel, Florida Hospital Zephyrhills, Florida Hospital Heartland Medical Center Sebring, Florida Hospital Heartland Medical Center Lake Placid and Florida Hospital Wauchula. It also includes a free-standing ER in Palm Harbor. Part of the Adventist Health System, Florida Hospital is a leading health network comprised of 26 hospitals throughout the state. For more information, visit FloridaHospital.com