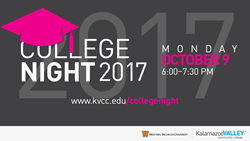 Kalamazoo, Michigan (PRWEB) October 06, 2017
High school students who are exploring college options are invited to attend the 2017 Greater Kalamazoo Area College Night Oct. 9 at Kalamazoo Valley Community College's Texas Township Campus.
Representatives from more than 80 different colleges, universities and training institutions will be available from 6-7:30 p.m. to speak with students and their parents about post-secondary educational opportunities, their programs and campuses. Additionally, representatives from the U.S. Armed Forces will be on hand to discuss military opportunities and how military service can help pay for a college education.
Some of the institutions scheduled to attend include: Adrian College, Albion College, Alma College Aquinas College, Army National Guard, Baker College, Calvin College, Central Michigan University, Cleary University, Coast Guard Academy, Cornerstone University,
Davenport University, Eastern Michigan University, Eastern Michigan University – Aviation, Elmhurst College, Ferris State University, Grand Valley State University, Hope College, Kalamazoo Valley Community College, Michigan State University, Michigan Technological University, Northern Michigan University Northwood University, Oakland University, Olivet College, Purdue University, United States Coast Guard, United States Military Academy, University of Detroit Mercy, University of Evansville, University of Michigan and
Western Michigan University.
Director of Enrollment Management at Kalamazoo Valley EJ Bast said the event is an excellent opportunity and convenient way for college-bound students and their parents to explore their options.
"Where else can you access information about so many different colleges and universities under one roof?" Bast said. "It's a great way to learn about the different higher education opportunities available. With so many options, there's something for everyone. It's one-stop shopping."
A financial aid presentation will be held at 7 p.m. in the Dale B. Lake Auditorium. The presentation will cover scholarships, student loans, and the kinds of financial assistance available from the federal and state governments as well as important changes to financial aid for the 2017-2018 school year.
College Night is co-sponsored by Kalamazoo Valley and Western Michigan University. The event is free and open to the public. For more information and the complete list of schools participating, visit http://www.kvcc.edu/collegenight.