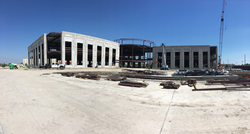 (PRWEB) October 06, 2017
Adolfson & Peterson Construction (AP) hosted a Topping Out event today at the site of WatchGuard Video's new campus in Allen to commemorate reaching the final height of the structure. AP is serving as the contractor for this project, which is located at the intersection of Exchange Pkwy and Andrews Pkwy. in Allen.
Designed by GFF, the project consists of a 2 story, 140,000 square foot office building which will serve as the new home for WatchGuard Video. The new headquarters will have the capacity to accommodate approximately 500 employees. The entire office building will be finished out and will include a high-tech engineering laboratory as well a manufacturing facility on the first floor where WatchGuard Video's in-car and body cameras will be assembled.
"It is exciting to reach this critical milestone and see WatchGuard's vision for this new campus become a reality," said Corbett Nichter, Senior Vice President with AP. "WatchGuard has been a wonderful partner on this project and the strong team commitment of WatchGuard, GFF and AP has been the foundation of the project's success to this point and will support a successful completion to this project."
Substantial completion is currently slated for April 2018.
About Adolfson & Peterson Construction
Adolfson & Peterson Construction is a U.S.-based, privately held firm that is consistently ranked among the top 50 construction managers and general contractors in the nation. Founded in 1946, the company has built longstanding commitments to the regions in which it operates and is known nationally for its innovative and collaborative approaches within the building industry. Adolfson & Peterson Construction serves the education, multifamily, healthcare, energy, commercial, municipal and senior living market segments from its offices in Dallas, Denver, Minneapolis and Phoenix. For more information, visit http://www.a-p.com and follow us on Facebook, LinkedIn and Twitter.
About Watch Guard Video
WatchGuard Video is the world's largest manufacturer of law enforcement video systems, supplying in-car and body worn cameras along with evidence management software to nearly 1/3rd of all Law Enforcement agencies in the U.S. and Canada. The company is a four-time winner of the Dallas 100 award honoring the fastest-growing, privately held businesses in the Dallas area. In addition, WatchGuard was included on the Inc. 5000 list of fastest growing private American companies in both 2015 and 2016.