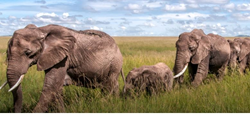 An African safari deserves to be on everyone's bucket list! And at under $5,000 for the package, you won't find a better deal than this!
WASHINGTON (PRWEB) October 19, 2017
Mervis Diamond Importers and ESPN Redskins Radio have partnered to provide listeners a South Africa Safari adventure of a lifetime. For only $4,995, the luxury 10-day trip includes all airfares, hotels, guides and safari. Highlights of the trip include Cape Town – regarded as one of the most beautiful cities in the world - and a safari in the Greater Kruger Game Reserve. Departure begins February, 2018.
Mervis Diamond has hosted similar South Africa trips in the past with great success. Jonathan Mervis, company Vice President, explains the connection: "For 25+ years, Ronnie Mervis has been on the Washington, DC radio proudly telling stories of the family history in South Africa and the diamond mines there. Now, we have an incredible opportunity to take listeners to see the majestic sights of the country with their own eyes!"
The 6th annual trip departs in February 2018, with a second group departing in March 2018. Space is limited and the first group is nearly sold out.
Ronnie Mervis, company CEO, quips on the perfect timing: "Just when Washington freezes in February, we'll enjoy the gorgeous South African summer. The public is welcome to join in the fun!"
For details:
http://www.mervisdiamondsafari.com
Contact Dave Herbert of Great Safaris
Email: daveh(at)greatsafaris(dot)com
Phone: (800) 409-7755
Mervis Diamond Importers is a family business specializing in diamond engagement rings and other fine jewelry, including diamond earrings, diamond necklaces, and diamond tennis bracelets. Mervis Diamond has three locations in Washington DC, Tysons, VA, and Rockville, MD.