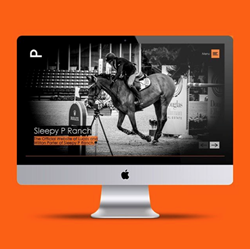 The difference between show jumping and american football is not in the danger or the skill, but in how the sport is being displayed, and how that display connects to your audience
Wellington, FL (PRWEB) October 12, 2017
NewStyle Digital, a website design and digital marketing agency based in Wellington, Florida, is pleased to present their new mission, setting their sights on bringing the equestrian sport market into the spotlight.
NewStyle Digital has worked with many top equestrian clients including Parlanti Riding Boots, Kingsland Equestrian, American Equus, Personally Preppy, Sleepy P Ranch, Nicolette Hirt, Weston Davis DVM, Kask Equestrian, and Memo Gracida.
The company is recognized for driving Parlanti Riding Boots from a small company to superstar levels in the equestrian product market. "When we first started working with Parlanti Riding Boots in 2013, they were using the owner's garage as their warehouse to store inventory," chuckled Taylor. "Today, Parlanti Riding Boots are worn by the top show jumpers in the world, and can be found on the shelves of almost every tack shop in North America. Even Angelia Jolie was seen wearing Parlanti Riding Boots in a recent Vanity Fair Photoshoot."
"The problem is clear; the equestrian world has a marketing problem," said Aaron Taylor, President of NewStyle Digital. "When our team began working with equestrian clients, we were shocked at how poorly the equestrian industry has been marketing their sport," Taylor added. "I think it's one of those situations where the organizations believe that their sport has been around forever, and so, they don't need to market themselves to survive. This notion may prove to be true in a niche' equestrian location like Wellington, but nothing proves a point quite like finding out that a majority of the 3 billion people watching the Olympic Games found your sport most likely to be dropped. There is a disconnect between the sport and the people."
Amongst other things, NewStyle Digital is not an equestrian-exclusive company. They claim their success can be attributed to their unique ability to apply cutting-edge marketing tactics used by global giants to niche' markets, such as equestrian sports. "When a company hires us to outshine a competitor," said Taylor, "we are usually battling against a giant marketing firm that their agency hired, and if we aren't razor-sharp, we get pummeled. It seems though, that when an equestrian client hires us to outshine their competition, the competing agency is usually the owner's family member or intern. Almost always, the competition never even sees us coming."
NewStyle Digital is taking aim at improving and modernizing the marketing of equestrian sports by creating competition within the marketplace itself. By instilling a competitive nature between equestrian companies and brands, a dynamic is created that promotes growth and outreach to the brands, as well as the sport. Historically, the misunderstood world of equestrian sports has failed to maintain steady growth in comparison to many other mainstream sports.
"You can't expect to compete with the NFL if you aren't marketing yourself like the NFL. Contrary to popular belief, equestrian-sports are intense. For example, if you watch a round of showjumping, it looks boring and bland to the non-equestrian, mostly because the video is being shot from one angle and from far away. But if you stood next to a jump while a rider cruising at 30 mph as a 1,200 lb horse jumps clear over your head, you'd have a new appreciation for the sport. The same applies to any sport, even american football. The difference between show jumping and american football is not in the danger or the skill, but in how the sport is being displayed, and how that display connects to your audience. The difference lies in how those sports are differently marketed."
Taylor's team at NewStyle Digital is outfitted with the top marketing and design experts, many of which have experience working at established firms. From website design and branding, to full-scale marketing campaigns, NewStyle Digital plans to use their arsenal of marketing tools to strategically leverage outside interests in equestrian sports. "Don't get me wrong," commented Taylor, "it would be impossible for us to change the popular view on equestrian sports. But I think that with each equestrian company that we work with, we get one step closer to proving to the equestrian community that if you build it, they will come."
NewStyle Digital is a website design and digital marketing agency located in Wellington and West Palm Beach, Florida. For more information, visit newstyledigital.com.